BRDC Formula 4 to build new car to FIA F4 specification
| | |
| --- | --- |
| By Scott Mitchell | Thursday, August 21st 2014, 09:02 GMT |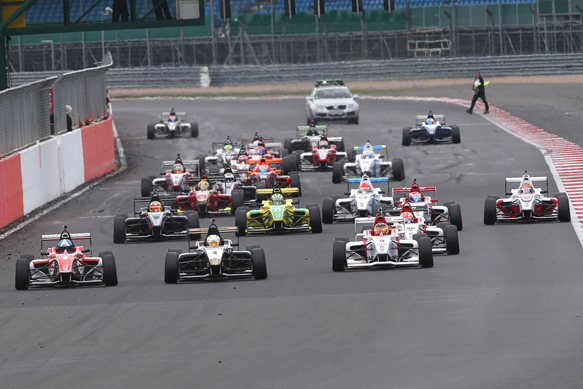 BRDC Formula 4 will introduce a new car built to FIA Formula 4 regulations, opening the championship up to 15-year-olds.
The Motor Sports Association announced last week it will allow drivers aged 15 to compete in certain single-seater championships from next year with British Formula Ford, which will become the UK's FIA F4 variant in 2015, set to be the only series that would be eligible.
BRDC F4's current spaceframe chassis would block it from benefiting from the rule change but series chief Jonathan Palmer held a meeting with team bosses at Silverstone last weekend, at which it was agreed a carbon composite monocoque chassis will be built to replace the F4-013.
The new BRDC F4 car will comply with FIA Article 274 crash-test and safety requirements and could be introduced as early as next season, although it may be delayed until 2016.
Palmer has also committed to purchasing the existing Ralph Firman-designed cars back from the teams for £15,000, if they upgrade to the new chassis.
"The spaceframe chassis has proven to be just the right thing, the perfect way to launch BRDC F4," said Palmer, who also told AUTOSPORT he will use the batch of older cars at the MSV-owned Brands Hatch and Oulton Park experience centres.
"Now it's clear that the costs of composite chassis is reducing and it makes sense to upgrade it in compliance with the FIA F4 safety standards.
"We will be liaising with the teams. It's totally dependent on what they want to do but 2016 is more likely.
"We've got tremendous reliability and quality for the current car and want to make sure it is exceeded; that's going to be best served by having the car out by next June pounding round testing."
TEAMS BACK DECISION
Graham Johnson, head of the championship-winning Lanan Racing team, believes the move will stop several outfits - including his - from exploring a move into FIA F4.
"I wasn't actively looking at FIA F4 but if that's what we needed to do I was prepared to consider it," he said.
"Now I'm not prepared to gamble. I don't think this will blow FIA F4 out of the water but you'd be a brave man to buy a car that will have Jonathan and MSV to compete with."
Hillspeed boss Richard Ollerenshaw said his team was seriously considering expanding into FIA F4 but had now shelved the possibility, adding that the financial guarantee against a new car was "totally unprecedented".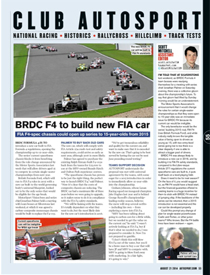 "It's a fantastic decision," he added.
"If it was possible to have it next year we would welcome it with open arms. We've got a very good engine, gearbox and electrical package. If all that carried over, I think it can be introduced quite quickly."
"There were concerns about FIA F4. But talk is cheap in this industry and Jonathan has kicked the legs out from under the MSA and Ford."
For more on this story, and analysis of what it could mean for UK single-seaters, read this week's issue of AUTOSPORT - available in shops and online on Thursday, August 21.