Nurburgring European F3: Tom Blomqvist dodges rain to lead practice
| | |
| --- | --- |
| By Richard Asher | Friday, August 15th 2014, 12:23 GMT |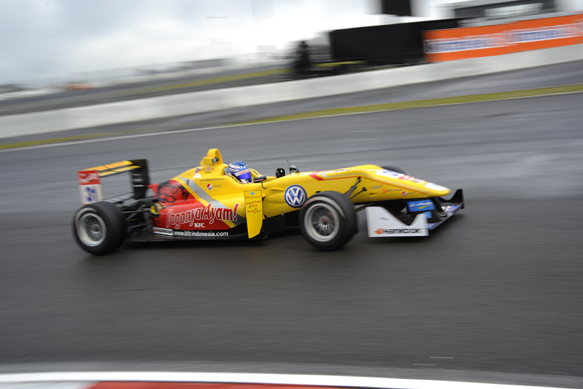 British driver Tom Blomqvist came out on top from a pair of European Formula 3 free practice sessions interrupted by rain and accidents at the Nurburgring.
The circuit was at its driest at the very beginning of the first half of practice, and that was when the Carlin Motorsport-run Jagonya Ayam racer registered a time that had no chance of being beaten after light rain, and then a heavy shower, arrived midway through the first session.
Blomqvist's lap was just a fraction quicker than that of runaway points leader Esteban Ocon. The Prema Powerteam driver does have a mathematical chance of sealing the title at this third-last meeting of the year.
Third, and only a tenth behind the two quickest men, was Carlin's Jake Dennis, though the British racer did later get caught out and crashed in the wet second part of practice.
The end of the first session was curtailed by an accident involving Michele Beretta, and the second red-flagged due to both West-Tec's new driver Andy Chang and Dennis going off the circuit. Frontrunner Felix Rosenqvist also had an off at the very end of the session.
Max Verstappen, whose van Amersfoort Racing car now carries Red Bull colours indicative of his newly-signed Formula 1 junior driver scheme affiliation, showed ominous pace in the wet-but-drying conditions of the second session, where lap times were around 15 seconds slower.
The Dutch driver, who was fourth quickest in the 'dry' running and leads the chase of Ocon in the championship, dropped his times consistently throughout this phase of practice, although Ocon did pip him by a couple of hundredths at the very end.
The fickle Eifel weather looks set to hang around at least for the first qualifying session later on Friday.
Practice one

Pos Driver              Car                             Time       Gap     Laps
 1. Tom Blomqvist       Carlin Dallara-VW               1m23.217s           21
 2. Esteban Ocon        Prema Dallara-Merc              1m23.268s  +0.051s  20
 3. Jake Dennis         Carlin Dallara-VW               1m23.388s  +0.171s  22
 4. Max Verstappen      Van Amersfoort Dallara-VW       1m23.416s  +0.199s  22
 5. Jordan King         Carlin Dallara-VW               1m23.655s  +0.438s  20
 6. Antonio Fuoco       Prema Dallara-Merc              1m23.674s  +0.457s  22
 7. Gustavo Menezes     Van Amersfoort Dallara-VW       1m23.760s  +0.543s  22
 8. Ed Jones            Carlin Dallara-VW               1m23.773s  +0.556s  19
 9. Dennis van de Laar  Prema Dallara-Merc              1m23.896s  +0.679s  24
10. Felix Rosenqvist    Mucke Dallara-Merc              1m24.068s  +0.851s  20
11. Nicholas Latifi     Prema Dallara-Merc              1m24.095s  +0.878s  17
12. Felix Serralles     West-Tec Dallara-Merc           1m24.113s  +0.896s  20
13. Lucas Auer          Mucke Dallara-Merc              1m24.119s  +0.902s  19
14. Alexander Toril     T-Sport Dallara-NBE             1m24.349s  +1.132s  19
15. Roy Nissany         Mucke Dallara-Merc              1m24.507s  +1.290s  17
16. Michele Beretta     Eurointernational Dallara-Merc  1m24.567s  +1.350s  19
17. Spike Goddard       T-Sport Dallara-NBE             1m24.614s  +1.397s  21
18. Sean Gelael         Carlin Dallara-VW               1m24.649s  +1.432s  19
19. Jules Szymkowiak    Van Amersfoort Dallara-VW       1m24.856s  +1.639s  21
20. Santino Ferrucci    Eurointernational Dallara-Merc  1m25.083s  +1.866s  18
21. Tatiana Calderon    Jo Zeller Dallara-Merc          1m25.091s  +1.874s  16
22. Andy Chang          West-Tec Dallara-Merc           1m25.934s  +2.717s  23
23. Antonio Giovinazzi  Carlin Dallara-VW               1m26.424s  +3.207s  16
24. Sandro Zeller       Jo Zeller Dallara-Merc          1m32.167s  +8.950s  12

Practice two

Pos Driver              Car                             Time       Gap     Laps
 1. Esteban Ocon        Prema Dallara-Merc              1m35.614s           18
 2. Max Verstappen      Van Amersfoort Dallara-VW       1m35.633s  +0.019s  17
 3. Lucas Auer          Mucke Dallara-Merc              1m36.384s  +0.770s  16
 4. Felix Rosenqvist    Mucke Dallara-Merc              1m36.396s  +0.782s  14
 5. Tatiana Calderon    Jo Zeller Dallara-Merc          1m36.464s  +0.850s  19
 6. Antonio Fuoco       Prema Dallara-Merc              1m36.909s  +1.295s  17
 7. Ed Jones            Carlin Dallara-VW               1m36.938s  +1.324s  16
 8. Roy Nissany         Mucke Dallara-Merc              1m36.949s  +1.335s  17
 9. Felix Serralles     West-Tec Dallara-Merc           1m37.008s  +1.394s  17
10. Jules Szymkowiak    Van Amersfoort Dallara-VW       1m37.186s  +1.572s  17
11. Gustavo Menezes     Van Amersfoort Dallara-VW       1m37.212s  +1.598s  19
12. Alexander Toril     T-Sport Dallara-NBE             1m37.256s  +1.642s  17
13. Santino Ferrucci    Eurointernational Dallara-Merc  1m37.260s  +1.646s  16
14. Tom Blomqvist       Carlin Dallara-VW               1m37.406s  +1.792s  15
15. Spike Goddard       T-Sport Dallara-NBE             1m37.640s  +2.026s  16
16. Dennis van de Laar  Prema Dallara-Merc              1m37.697s  +2.083s  18
17. Jordan King         Carlin Dallara-VW               1m37.758s  +2.144s  13
18. Sean Gelael         Carlin Dallara-VW               1m38.024s  +2.410s  15
19. Nicholas Latifi     Prema Dallara-Merc              1m38.858s  +3.244s   8
20. Sandro Zeller       Jo Zeller Dallara-Merc          1m40.619s  +5.005s  16
21. Jake Dennis         Carlin Dallara-VW               1m40.987s  +5.373s   2
22. Andy Chang          West-Tec Dallara-Merc           1m47.080s  +11.466s  2
23. Antonio Giovinazzi  Carlin Dallara-VW               no time              2