Formula E teams complete first race simulation at Donington
| | |
| --- | --- |
| | Monday, August 11th 2014, 10:43 GMT |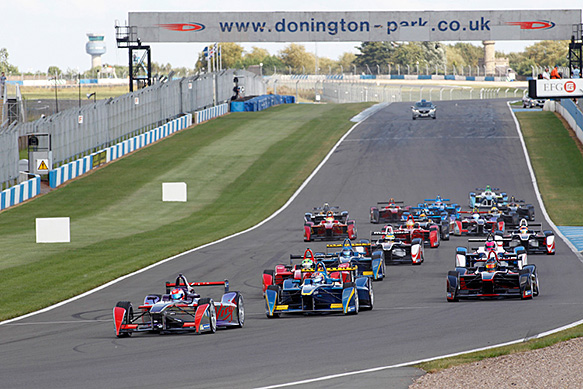 Formula E has carried out two simulations of its race weekend format at Donington Park, ahead of its inaugural event in Beijing next month.
The series' 10 teams went through the full procedure of practice, qualifying and races - including the mandatory mid-race car swaps - using a temporary pit facility created to mimic the championship's street venues.
Other procedures were also simulated, including television broadcasts, with a series statement saying that although "number of issues were encountered", the tests were considered successful overall.

Behind the scenes in Formula E testing
Series chief Alejandro Agag said: "Putting on a major sporting event in the heart of cities around the world is a massive undertaking and requires careful preparation.
"We want the Formula E Beijing ePrix to a fantastic spectacle, which is why we're leaving nothing to chance by rigorously testing all the systems beforehand."
The championship has also announced the timetable for its race events, all of which take place over a single day.
Two practice sessions of 45 and 30 minutes respectively are followed by a four-part qualifying procedure in which five cars qualify at a time in 10-minute sessions.
There is then a three-hour gap before the race, which is scheduled for 4pm local time at each event.
FE will carry out one final public pre-season test at Donington on August 19.