Andy Wallace in line for fan-funded Bentley return
| | |
| --- | --- |
| By Gary Watkins | Friday, August 8th 2014, 14:47 GMT |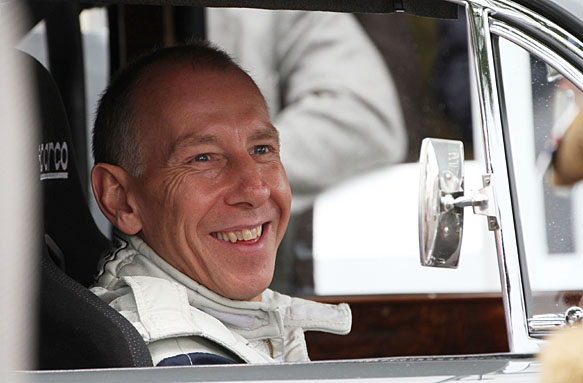 Former Le Mans 24 Hours winner Andy Wallace will return to the wheel of a Bentley, if a British team's plan to purchase a Continental GT3 through crowd-funding comes together.

The Brookspeed squad, which won the British GT Championship in 2008, has set up a club with the aim of finding 500 members to buy a Bentley and fund its participation in the Gulf 12 Hours invitation event in Abu Dhabi this December.

The Brookspeed Bentley Racing Club would then seek funding to undertake a full season of racing in 2015, most likely in British GT, and has the ultimate aim of taking part in Le Mans 24 Hours.

Wallace, who finished third at Le Mans in 2001 on Bentley's return to the French enduro, has been chosen as a driver because of his links with Brookspeed boss Martin Braybrook from the David Price Racing-run Harrods McLaren programme of 1995-96.

Braybrook, who had a logistical involvement with the Harrods McLaren team that finished on the podium at Le Mans in 1995, wants to reunite Wallace and '95 team-mate Justin Bell for the start of the Bentley programme.

"We thought getting Andy and Justin back together would be a good way to kick things off and give us a lot of respect," he said.

"Derek Bell [who also drove the third-place McLaren F1 GTR in '95] has leant his support as well."

Fifty-three-year-old Wallace, whose last major international sportscar outing was in the defunct American Le Mans Series in 2011, said: "This could be exciting: it would be nice to get back in a Bentley and Abu Dhabi is a great circuit."

Wallace said the chance to race a Bentley would fit with his role as an official driver with Bugatti on the Veyron road car project.

The third driver for Abu Dhabi also had an involvement with the Harrods McLaren: Radical SR1 Cup frontrunner James Guess was Justin Bell's business manager at the time.

Guess would also be the amateur driver for the team's proposed British GT campaign in '15.

The BBRC is aiming to attract 500 so-called founding members paying £1000 apiece. Each would have a stake in the club, which would own the Continental.

Braybrook said that he was hopeful that the BBRC would hit its target.

"The statistics of crowd-funding say that you will get a two percent take up from the number of hits you get," he explained.

"With the Bentley badge, I think it is achievable if we can get the message out there.

"We want to get our members involved in our programme, to have a stake in what we are doing and ultimately to have fun."

Braybrook explained that the BBRC had the goal to race at Le Mans, although this would involve a move away from Bentley because the British manufacturer has no plans to develop a car for the GTE class.

Bentley has confirmed that it has had talks with Brookspeed.