Tristan Vautier and Conor Daly begin 2015 Indy Lights car testing
| | |
| --- | --- |
| By Mark Glendenning | Tuesday, August 5th 2014, 21:20 GMT |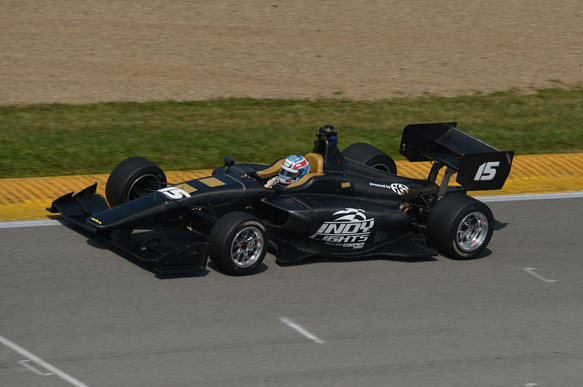 Former Indy Lights champion Tristan Vautier hailed the new Dallara IL-15 Lights car after putting it through its paces in its first public test at Mid-Ohio on Monday.
The Frenchman, who won the Lights title in 2012 and raced in IndyCar with Sam Schmidt Motorsports last season, completed a total of 85 trouble-free laps in the AER turbo-powered car, setting a fastest lap of 1m13.4s that was around 0.5 seconds faster than Jack Harvey's pole time in the current car at the same track on Saturday.
"The car is a lot of fun to drive. It's a blast. Everything about it is better than the old car," said Vautier.
"It's a proper car that prepares drivers better for IndyCar as well. It has very similar characteristics in the way it responds on track.
"The engine is great, the driveability is already right there and the gearbox is amazing.
"The brakes, I think, are the biggest step forward. They are really, really good. The balance was off at the start obviously, but we made a couple of small changes and the car came alive. There is definitely a lot of potential."
Vautier's outing followed a shakedown by Conor Daly at Putnam Park last week, with the pair scheduled to remain in the cockpit for the next phase of testing.
The IL-15 is slated for its first oval test at Indianapolis on August 12 and 14, followed by four days of running on the IMS road course.
"I think it's a massive step in the right direction for the series," said Daly, who is currently racing in GP2.
"With the experience I have got now over in Europe from racing basically all of the Dallaras that are on the market, it's cool to experience this new one and I think it's what the series needs. It's big, it's fast, it's high-tech - it's the future."
Tony Cotman, who was responsible for the bid and design process of the new car, said that the test's success was an encouraging sign as work continues on preparing the IL-15 for delivery to teams.
"The goal was to come here and do mileage, which we achieved," said Cotman.
"The car is obviously very fast, so that's good. It is important for us to get the car in a position that, when the teams get it, all the bugs are sorted out and we can give them a pretty good baseline."
The IL-15 will end the 13-year racing life of the current Dallara chassis, which was introduced in 2002 and is set for retirement following the Lights season finale at Sonoma later this month.