Red Bull Ring European F3: Antonio Giovinazzi grabs double pole
| | |
| --- | --- |
| By Marcus Simmons | Saturday, August 2nd 2014, 16:19 GMT |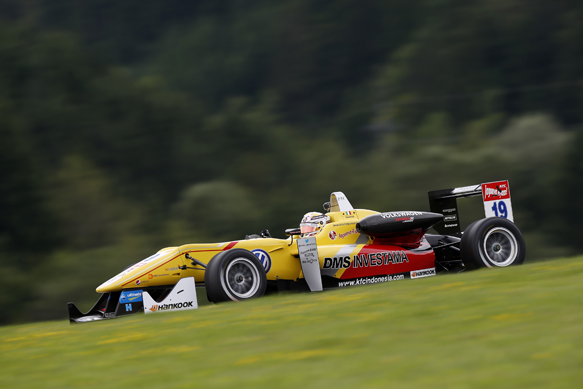 Antonio Giovinazzi claimed a double pole position for Sunday's two Formula 3 European Championship races at the Red Bull Ring by three tenths of a second.
The spectacular Italian, who is using a brand new chassis this weekend, put in three scorching laps shortly before the end of the session, each of which was quicker than anyone else's best, to deny his Jagonya Ayam stablemate within the Carlin squad, Tom Blomqvist.
Giovinazzi was leading Blomqvist at the midpoint when the session was red-flagged as bearded Brit Hector Hurst Hector Hurst had been forced to park a very ill-sounding Team West-Tec car on the pit straight.
After the restart, silky smooth Antonio Fuoco temporarily moved ahead of the two yellow machines. But his Prema Powerteam Dallara-Mercedes dropped back behind first Giovinazzi, then Lucas Auer, and finally Blomqvist, who jumped back up from fourth to second on the final lap.
While Giovinazzi heads Blomqvist at the top for both races, Auer's Mucke Motorsport Dallara-Merc dropped back to fifth on second-best times, which decide the grid for race three, with Fuoco moving up to third.
Felix Rosenqvist put in a one-off effort to go fifth for race two, but he is relegated to eighth on the grid for race three in his Mucke car.
Championship rivals Esteban Ocon (Prema) and Max Verstappen (Van Amersfoort Racing) could only manage sixth and seventh in the order, with both looking spectacular - and Verstappen on opposite-locking form - as they tried to improve.
It's slightly better for both for race three, which they will start fourth and sixth respectively.
A trio of Carlin drivers rounded out the top 10, with Jordan King heading Jake Dennis and Ed Jones. On second-best times, Dennis leaps to seventh, with King and Jones ninth and 10th.
Gustavo Menezes fleetingly popped up in second place on the timing screens on the final lap, only to have the lap disallowed for a track-limits offence.
Pos  Driver              Team/Car                        Time         Gap  
 1.  Antonio Giovinazzi  Carlin Dallara-VW               1m24.748s         
 2.  Tom Blomqvist       Carlin Dallara-VW               1m25.036s  +0.288s
 3.  Lucas Auer          Mucke Dallara-Merc              1m25.042s  +0.294s
 4.  Antonio Fuoco       Prema Dallara-Merc              1m25.090s  +0.342s
 5.  Felix Rosenqvist    Mucke Dallara-Merc              1m25.114s  +0.366s
 6.  Esteban Ocon        Prema Dallara-Merc              1m25.199s  +0.451s
 7.  Max Verstappen      Van Amersfoort Dallara-VW       1m25.212s  +0.464s
 8.  Jordan King         Carlin Dallara-VW               1m25.298s  +0.550s
 9.  Jake Dennis         Carlin Dallara-VW               1m25.368s  +0.620s
10.  Ed Jones            Carlin Dallara-VW               1m25.512s  +0.764s
11.  Nicholas Latifi     Prema Dallara-Merc              1m25.534s  +0.786s
12.  Tatiana Calderon    Jo Zeller Dallara-Merc          1m25.557s  +0.809s
13.  Gustavo Menezes     Van Amersfoort Dallara-VW       1m25.592s  +0.844s
14.  Dennis van de Laar  Prema Dallara-Merc              1m25.595s  +0.847s
15.  Sean Gelael         Carlin Dallara-VW               1m25.613s  +0.865s
16.  Roy Nissany         Mucke Dallara-Merc              1m25.624s  +0.876s
17.  Felix Serralles     West-Tec Dallara-Merc           1m25.624s  +0.876s
18.  Alexander Toril     T-Sport Dallara-NBE             1m25.874s  +1.126s
19.  John Bryant-Meisner Fortec Dallara-Merc             1m26.025s  +1.277s
20.  Spike Goddard       T-Sport Dallara-NBE             1m26.173s  +1.425s
21.  Santino Ferrucci    EuroInternational Dallara-Merc  1m26.477s  +1.729s
22.  Jules Szymkowiak    Van Amersfoort Dallara-VW       1m26.497s  +1.749s
23.  Alfonso Celis Jr    Fortec Dallara-Merc             1m26.740s  +1.992s
24.  Sandro Zeller       Jo Zeller Dallara-Merc          1m26.851s  +2.103s
25.  Michele Beretta     EuroInternational Dallara-Merc  1m27.508s  +2.760s
26.  Hector Hurst        West-Tec Dallara Merc           1m28.797s  +4.006s