Revised M-Sport Ford Fiesta RS WRC to make Rally Finland debut
| | |
| --- | --- |
| | Friday, July 25th 2014, 17:56 GMT |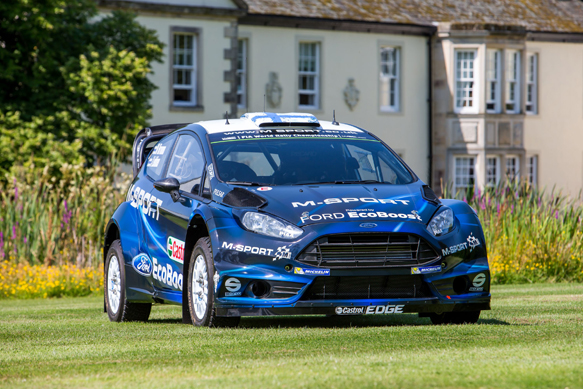 M-Sport has unveiled the facelifted version of the Ford Fiesta RS WRC that will make its World Rally Championship debut on Rally Finland next week.
Although a totally new Fiesta will not be seen in competition until 2015, M-Sport and its former factory partner Ford have collaborated on a restyling of the car based on the road-going Ford Fiesta ST.
Team boss Malcolm Wilson said: "We continue to enjoy a strong working relationship with the Ford Motor Company and their technical support has been invaluable in the creation of our award-winning range of Ford Fiesta rally cars.
"This facelift strengthens the bond between Ford and M-Sport and it's great to see the Blue Oval's latest and highly successful production model represented in our top-specification competition cars."
M-Sport ran Ford's works WRC programme from 1997 to 2012, and has since continued on an independent basis after the firm ended its factory involvement in rallying.
HIGH HOPES FOR NIKARA
In addition to fielding its full-season drivers Mikko Hirvonen and Elfyn Evans, plus Robert Kubica's RK M-Sport-branded car and another Fiesta for regular customer Henning Solberg, M-Sport has added Jarkko Nikara to its line-up for Finland.
The 28-year-old has done a one-off deal with the Cumbrian firm for his home rally, an event where he has shone before. He was on course for sixth in a Mini last year before a suspension problem, having posted top-10 times on 17 of the 21 stages he completed.
Nikara was the standout talent of the first year of the Pirelli Star Driver programme in 2009, but has struggled to get a permanent foothold in the WRC.

FROM THE ARCHIVE: Why Nikara should be Finland's next star
M-Sport's Rich Millener said: "Jarkko's a very exciting prospect and it's great to have a guy like him in the car.
"Not having competed in the world championship since last year, he's going to face a pretty steep learning curve, but the Fiesta is a nice car to get in and get comfortable with quickly."
European Rally Championship title contender Craig Breen will also return to the WRC for Finland in his own Ford Fiesta.