Adrian Sutil says his Sauber F1 future is safe
| | |
| --- | --- |
| By Ben Anderson | Thursday, July 24th 2014, 17:46 GMT |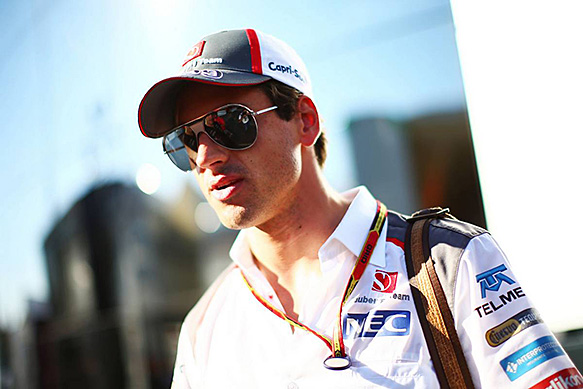 Adrian Sutil says his future in Formula 1 with Sauber is safe, despite speculation the Swiss squad might replace him in its driver line-up.
Rumours have circulated recently that the German driver is at risk of losing his seat to reserve driver Giedo van der Garde, but Sutil insisted he would be staying with the team.
"I think for half of my career people have said 'Adrian is out'," Sutil said, when asked by AUTOSPORT if he was at risk of losing his race seat.
"I'm still here, [my] 120th grand prix. I will be here for much longer, so sorry you will have to live with my face!
"Things move very quickly [in Formula 1] but this [rumour] is not the truth so you can ask me and I will give you an answer.
"It's from some people out there who are bored or whatever - I don't know what their problem is, but we are good here, the team is holding together in these times."
Sauber is known to have suffered financial difficulties in recent seasons, and looks set to miss out on significant prize money if it cannot improve its current point-less 10th spot in the constructors' championship.
Sutil denied the presence of well-funded reserve drivers in the background put his own position at Sauber under greater threat.
"Since I am in Formula 1 I had this situation," he added.
"At Spyker we had seven drivers in the team but only two cars.
"Now we have five drivers and two cars.
"So if I'm ill they can replace me.
"I know if you are not good financially then it's easy to get other drivers into seats who can bring more money to the team, but it's hard to lose a Friday morning, it always slows you down.
"At the moment I'm sure the team management is just trying to balance all of this out to make the right decision."
Team principal Monisha Kaltenborn said her team had no plans to alter its current driver line-up.
"We have announced our drivers with the functions they have and only if something unexpected should happen then he [van der Garde] should step in," Kaltenborn said.