Toronto IndyCar: Both races to be held on Sunday after "crazy" rain
| | |
| --- | --- |
| By Mark Glendenning | Saturday, July 19th 2014, 23:32 GMT |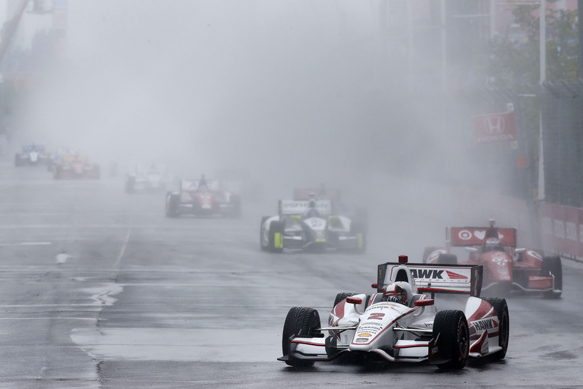 IndyCar says that it would have been "crazy" to attempt to race in Toronto on Saturday afternoon due to the risk presented by the treacherous conditions.
The series was forced to postpone the first race of this weekend's double-header due to visibility problems caused by bad weather.
A revised schedule has now been issued featuring two slightly shortened races of 75 laps each on Sunday.
The first race will have a rolling start with cars to line up based on Saturday's qualifying result, while the second will have a standing start and a grid based upon entrant points.
While the field spent several laps running behind the pace car in an attempt to clear some of the water on Saturday, IndyCar president of operations and competition Derrick Walker said that the conditions never made the race viable.
"I think it would have been crazy to start the race today," he said. "It doesn't look like a lot of water but when you go out and look at it, it's enough to make a difference.
"And the other thing that is a factor here is that when you get a lot of water you get a lot of oils coming out of the blacktop. So it's very slippery.
"We waited and waited and left it as late as we possibly could before we called it, because we wanted to get the race in.
"We thought if we could get the race started we could have pulled it off because the cars would have cleared the water away, but visibility was just too crazy.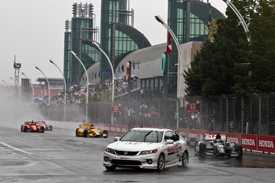 "You have to ask yourself at the end of the day, what do we want? Do we want a good race? Are we out here to see racing, or are we gladiators, throwing somebody out there and getting a couple of lions out to see if they eat him in two laps?"
Walker faced some criticism from teams because Penske was able to take advantage of the stoppage to carry out a substantial repair job to Will Power's car after the Australian slid into the barrier on an installation lap, but he said that the fact that the race technically never started precluded any further penalty.
"The stewards looked at it and said 'the race hasn't started'," Walker said.
"He crashed on the parade lap and went to the back, but the race hadn't started, so there wasn't a penalty as such. When the race was red-flagged and we let them work on the car, we let everybody work on their cars."
Power's team-mate Juan Pablo Montoya, whose car underwent repairs for an electrical problem, and Ganassi's Ryan Briscoe, who had a separate spin into the wall, were also relegated to the back.
With the first attempt at the race having been cancelled, all three will now be restored to their original qualifying positions.