German GP: Hamilton set for pitlane race start
| | |
| --- | --- |
| By Jonathan Noble | Saturday, July 19th 2014, 16:22 GMT |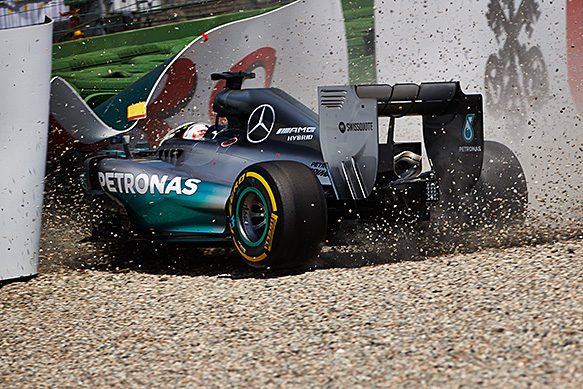 Lewis Hamilton looks set to be forced to start from the pitlane for the German Grand Prix, with Mercedes choosing to switch brake disc supplier following his qualifying crash.
The Briton had switched to Brembo discs on Saturday morning, but suffered a failure during Q1 on Saturday which pitched him in to the barriers at the Sachskurve.
With Mercedes aware that time is too short to guarantee that there will not be any more problems in the race, it has decided to revert Hamilton to Carbone Industrie discs for the race.
With the change of brake disc specification being a breach of parc ferme rules, it looks likely that Hamilton will be forced to start from the pitlane.
Mercedes motorsport boss Toto Wolff said after qualifying that the German car manufacturer was speaking to the FIA about the situation, as it hoped Hamilton could still start on the grid because the change was only being made on safety grounds.
"We have had a brake failure which means we are obliged to make sure that the car is running safe tomorrow," said Wolff. "That means switching the brakes supplier.
"If this results in starting from the pitlane is not yet discussed, and we have not yet brought the decision on that. But we are discussing that with the FIA.
"And I would even go further: obviously many teams are running that brake material so that safety discussion probably needs to be extended."
Mercedes was still not sure whether or not Hamilton would require a gearbox change for Hamilton as well, which would drop him five places anyway.
NO GAMBLE FROM HAMILTON
Hamilton, who frequently switches between different brake disc suppliers, said his decision to switch from Carbone Industrie to Brembo was based on feel.
"You can choose the brake that perhaps doesn't bite as much at the beginning but has more bite later on, has less fade," he said.
"In these temperatures there can be fade on some brakes - I chose these ones because they have more stopping power which means I can brake later."
Wolff denied that Hamilton's switch of brake discs was a gamble in safety terms, because Brembo actually appeared to be the more conservative supplier.
"Brembo had a failure earlier in the year, and they upgraded the discs to what is supposedly the safest disc," explained Wolff.
"They put a lot of research in to the carbon disc so there was no gamble whatsoever. It was just a matter of what suits your driving style.
"Both of them have been trying both brake materials every weekend, or almost every weekend."