Kamui Kobayashi pins hopes on Caterham F1 team reshuffle
| | |
| --- | --- |
| By Ben Anderson and Matt Beer | Thursday, July 17th 2014, 14:03 GMT |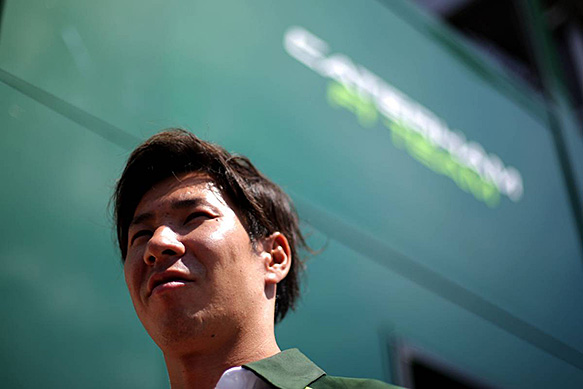 Kamui Kobayashi says he has to believe that the Caterham Formula 1 team's restructuring will pay off, after the squad's new owners announced staff cuts and a management reshuffle.
Caterham team manager Graham Watson, head of track operations Gerry Hughes and deputy technical director Jody Eggington were among over 40 personnel laid off in the restructuring that followed the team's sale to an unidentified consortium.
Ex-F1 racer Christijan Albers has been installed as team principal, and a development package set to arrive for August's Belgian Grand Prix has been given the green light.
Asked if he felt the changes were moving Caterham in the right direction, Kobayashi replied: "Yeah, I have to believe that, and work 100 per cent, or even 120 per cent.
"We have a different structure, so we will see what happens, but my part of the job doesn't change.
"The team has nothing to lose and nothing to save.
"Development was not doing what we expected. We were maybe struggling with the budget, but now we have money and we have updates for the future, which means we can do more if we want to."
Kobayashi was assured prior to the British GP that his 2014 contract would be honoured, despite immediate speculation about driver line-up changes. He said his understanding was just that he needed to keep performing well.
"I don't need a guarantee, because I don't work in the company, I'm more independent," said Kobayashi.
"If I'm not doing a good job tomorrow maybe I'll be fired tomorrow! But I'll be fine because this is racing and the way it has to be for a driver. We need to feel pressure."
He admitted that if Caterham wanted to bring in a funded driver, there would be little he could do.
"It depends what they want. I'm more experienced than the other drivers [connected to the team], so I just have to focus on my job. I cannot bring anything money-wise," he said.
"It's fine to lose out to a driver with money - this is Formula 1 unfortunately."
Kobayashi underlined that the biggest issue was Caterham's long-term survival, especially with Marussia now ahead in the world championship.
Asked if the team might write off this season to focus on 2015, he replied: "We're focused on 2014. If we don't do well maybe we don't have a '15."