European F3 ace Esteban Ocon likely to progress to GP2 or FR3.5
| | |
| --- | --- |
| By Marcus Simmons | Wednesday, July 16th 2014, 11:37 GMT |
The future of Formula 3 European Championship leader Esteban Ocon will not be decided until after next month's Nurburgring round.
The Lotus F1 Junior, who leads Max Verstappen by 116 points in the standings, looks likely to compete in GP2 or Formula Renault 3.5 - while a leap to Formula 1 has not been ruled out.
Ocon is on the same Gravity Sport Management programme as Romain Grosjean - owing to Gravity's common ownership with the Lotus Formula 1 team, he competes as one of several Lotus F1 Juniors.
Gravity already has very strong links with leading GP2 team ART Grand Prix, as well as DAMS, whose drivers are leading both series.
Gravity's Gwenael Lagrue told AUTOSPORT: "We have some ideas but we really want to stay focused on F3 because we all know that everything can change very quickly.
"If everything is going well the next step would be 3.5 or GP2, but I want to wait at least until probably after the Nurburgring [where the European F3 round takes place in mid-August] - after then we will have only two more meetings to do.
"By then we will have a clearer vision of what to do and of the championships - 3.5 is struggling and GP2 looks stronger this year."
On the subject of F1, Lagrue pointed out that Gravity's Lotus connection does not necessarily tie the company's proteges to the Enstone squad.
"To be honest you know how it is: if the train is coming you have to jump on it," he said.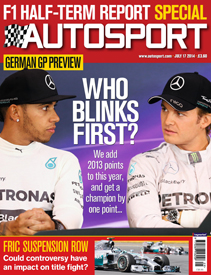 "You have only one chance - normally! [Grosjean famously got two].
"But if an F1 team is ready to sign him and take him on board I would be the first to be happy, and if this opportunity came we would have to go with it and work very hard to prepare him as much as we can. But let's see."
Should Ocon graduate straight to F1, he would be just 18 years and five months old when the season starts in 2015.
Ocon is profiled in a two-page feature in this week's AUTOSPORT magazine - available in shops and online from Thursday, July 17.