Sergio Perez backs FIA decision to be more lenient with F1 drivers
| | |
| --- | --- |
| By Ben Anderson | Tuesday, July 15th 2014, 10:44 GMT |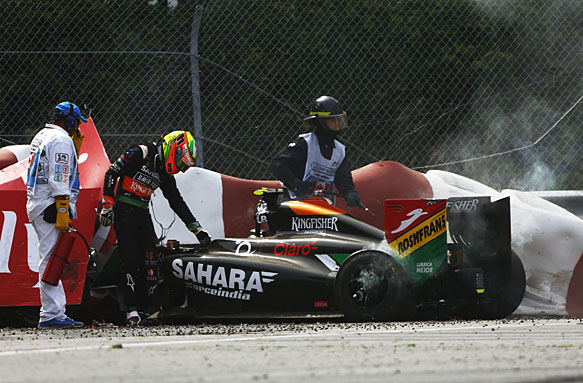 Sergio Perez has backed Formula 1's move to be more lenient on drivers who make contact during races.
The Force India driver was blamed for causing a high-speed crash with Felipe Massa on the final lap of June's Canadian Grand Prix, but the sport's governing body then decided to relax its approach to racing incidents from the following race in Austria.
Perez finished 11th at the recent British GP, after getting taken off by Jean-Eric Vergne's Toro Rosso at the first corner.
Vergne escaped censure from the stewards, and Perez said this was the "right approach" for the good of the sport.
"If it's the way we are going to approach racing now it's probably the right way," Perez said, when asked by AUTOSPORT whether he believed the FIA's new stance on racing incidents was good for the sport.
"Vergne came to apologise after the race because he just overshot the corner while fighting two other cars.
"If they are going to take that approach we have to be consistent through the season and not penalise someone else if the same thing happens in the future."
Triple world champion Niki Lauda suggested earlier this season that all incidents should be left to the drivers to sort out between themselves, but Perez reckons it is still vital to have an independent arbiter for driving standards.
"To a point he's right, but we must have limits," Perez added.
"In my opinion, what they gave me a penalty for in Montreal was a bit too much, because we both did our bit to collide.
"After that they changed the rule so in the future if that happened they are probably not going to give any penalty, which I think is quite fair and quite correct.
"If a driver makes a very obvious mistake and ruins the race of the other driver, there should be a penalty, but not in such difficult cases as the one we had in Montreal.
"We need to find a balance."