Gutierrez believes Sauber is 'stuck' on 2014 F1 car problems
| | |
| --- | --- |
| By Ben Anderson | Monday, July 14th 2014, 10:08 GMT |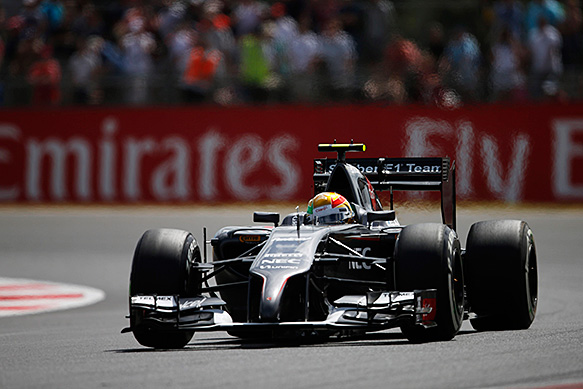 Esteban Gutierrez says Sauber is "stuck" trying to find a solution to the problems with its 2014 Formula 1 car.
The Swiss squad has endured a nightmare start to the season, failing to qualify inside the top 10 or score a point across the first nine races.
The drivers have complained about a lack of stability from the C33 under braking, and ongoing issues with the way the Ferrari engine delivers its power to the rear axle.
Gutierrez, who failed to finish the recent British Grand Prix after a collision with Pastor Maldonado's Lotus, said Sauber was trapped by engine and aerodynamic problems that it currently cannot solve.
"I think the explanation is pretty simple as we don't have enough downforce on the car and on the powertrain side, we cannot change things around because with the regulations we are not allowed to develop on the engine side," Gutierrez explained.
"Also, on the car side, we are a team which does not have the budget of the big teams to change everything around.
"We are taking risks at the moment. We are exploring the car, taking different approaches, because at the moment we are stuck.
"It's probably not bringing the best consistency, but we need to keep searching."
Gutierrez also said it was unlikely Sauber would suddenly find form over the second half of the season, in similar fashion to last year.
"We cannot fall down into that fold because last year was pretty special," he added.
"The tyres were changed in the middle of the season and we found something pretty unusual, and this year that is not really the case.
"We are not really far off expectations from the windtunnel, so there's not really something that's going to change the whole situation.
"We have to be truthful to ourselves and understand that we cannot just sit and hope that things are going to change.
"Last year we were pretty good in high-speed corners, so when we got to a track with high speed corners, we thought it could be a good opportunity for us.
"This year everywhere is quite weak [for our car].
"I have to say at the moment, it could not be worse."