Iowa IndyCar: Scott Dixon leads Tony Kanaan on Ganassi front row
| | |
| --- | --- |
| By Mark Glendenning | Saturday, July 12th 2014, 00:08 GMT |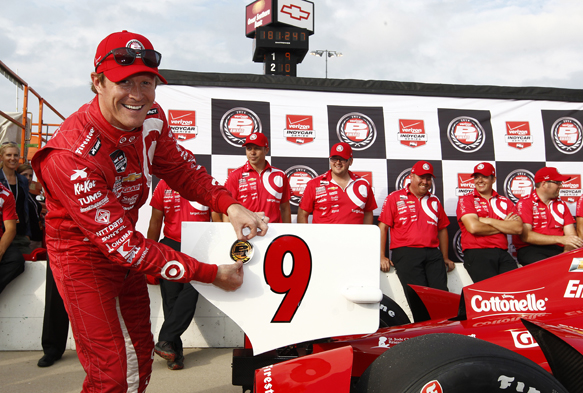 Scott Dixon will lead an all-Ganassi front row for Saturday night's IndyCar race at Iowa Speedway after dominating qualifying at the 7/8th mile track on Friday evening.
The Kiwi declared his intentions with a 182mph warm-up lap - faster than the qualifying averages of some of his rivals - and then unloaded two superb laps to finish at 186.256mph.
"We missed a bit on balance in practice and then got traffic, but we still ran a very respectable time, even having to lift a fair bit," Dixon said.
"So we knew the speed was going to be there, it was just a matter of whether the balance would be or not.
"Luckily, having TK [Tony Kanaan] and Ryan [Briscoe] go before us; they were able to tell us that the track was fairly understeery. So we put some front wing in, and the track was really good."
Until Dixon came along, Kanaan was the driver to beat. Despite the disadvantage of having been one of the first drivers to go out, meaning that he had to run on a track still blanketed with rubber left during the earlier NASCAR Truck qualifying session, he reeled off a two-lap average of 185.891mph that withstood 10 of his rivals before finally falling.
Ganassi was in contention for a 1-2-3 lockout of the top of the field until Penske's Helio Castroneves popped up in third towards the end of the session, relegating Briscoe to fourth.
Andretti's Carlos Munoz was quickest of the Honda-powered drivers in fifth; the rookie to start alongside KV's Sebastien Bourdais.
There was the normal scattering of usually-quick drivers having a bad day, including Andretti's Ryan Hunter-Reay, whose run was ruined by a wiggle through the final corner on his first flying lap, leaving him 13th.
But the greatest catastrophe was reserved for Penske's Juan Pablo Montoya, the practice pacesetter and last week's Pocono winner, who had an even bigger moment on the bump approaching Turn 2. He ended up 19th.
"It was a little tight/loose, like understeer then oversteer," Montoya told AUTOSPORT.
"I wanted to try to help the car rotate through the middle and... I thought I was hitting the wall. Normally it snaps and comes back, but this one snapped and then stayed there, and I'm going, 'Oh my God...'.
"I'm just glad the car's in one piece. Actually, I'm glad I'm in one piece."
Pos  Driver              Team/Engine      Speed
 1.  Scott Dixon         Ganassi/Chevy    186.256
 2.  Tony Kanaan         Ganassi/Chevy    185.891
 3.  Helio Castroneves   Penske/Chevy     185.685
 4.  Ryan Briscoe        Ganassi/Chevy    185.339
 5.  Carlos Munoz        Andretti/Honda   185.027
 6.  Sebastien Bourdais  KV/Chevy         184.968
 7.  Charlie Kimball     Ganassi/Chevy    184.743
 8.  Marco Andretti      Andretti/Honda   184.726
 9.  Will Power          Penske/Chevy     184.683
10.  Ed Carpenter        Carpenter/Chevy  184.589
11.  Simon Pagenaud      Schmidt/Honda    184.380
12.  Mikhail Aleshin     Schmidt/Honda    184.316
13.  Ryan Hunter-Reay    Andretti/Honda   183.747
14.  James Hinchcliffe   Andretti/Honda   183.348
15.  Graham Rahal        Rahal/Honda      183.201
16.  Takuma Sato         Foyt/Honda       183.089
17.  Sebastian Saavedra  KV/Chevy         183.083
18.  Justin Wilson       Coyne/Honda      182.455
19.  Juan Pablo Montoya  Penske/Chevy     182.317
20.  Jack Hawksworth     Herta/Honda      181.243
21.  Josef Newgarden     Fisher/Honda     180.987
22.  Carlos Huertas      Coyne/Honda      177.849

Qualifying order set by average speed over two-lap run
All drivers use Dallara chassis