Townsville V8 Supercars: Jamie Whincup doubles up in race three
| | |
| --- | --- |
| | Sunday, July 6th 2014, 08:12 GMT |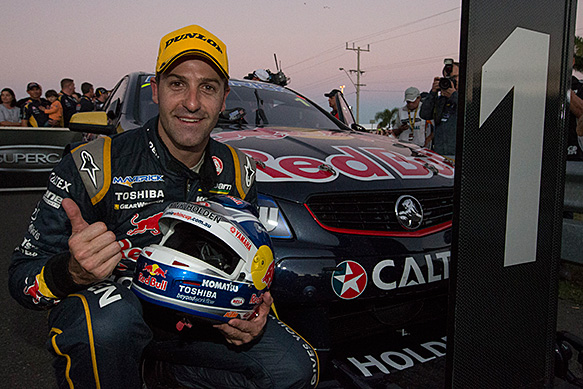 A different strategy enabled Jamie Whincup to take his second V8 Supercars win of the weekend in the series' longest ever race at Townsville.
The Triple Eight driver did not follow the majority of the field into the pits after an early safety car and this meant he had fresher rubber to take the lead from Garth Tander's Holden towards the end of the 250km race.
Jason Bright had to defend heavily from pole from Whincup at the start but he was unable to make a move round the outside stick.
Further back there was contact between Dale Wood and Jack Perkins, which brought the safety car out and meant two-thirds of the field dived in the pits.
Whincup stayed out however, so led from the restart, but there was trouble for Bright as he was given a drive-through penalty for having spinning wheels during his stop that dropped him out of contention.
Once all the stops had been made, Whincup had a five-second deficit to Tander but quickly reeled the race-two winner in. On lap 70 he dived up the inside of Tander at Turn 2, but Tander reclaimed the place at the next corner.
However, further around the lap, Whincup made the decisive move that gave him his first Sunday win of 2014.
Shane van Gisbergen's Tekno Holden was on a charge in the closing stages as he opted for a differing three-stop strategy that gave him good pace at the end.
He passed Nick Percat for fourth and with seven laps to go the Kiwi passed Tander's team-mate James Courtney to take the final podium place.
Points leader Mark Winterbottom again made up for a lowly 12th place grid slot to take sixth in his Ford, but his championship lead had been significantly eaten into.
Craig Lowndes had another miserable race as his Holden's engine started overheating and he lost vast amounts of water.
He continued pitting for water throughout the race to ensure he made it to the finish but the lost points meant he dropped four places over the weekend to sixth in the championship standings.
| Pos | Driver | Car no. | Car | Time/Gap | Laps |
| --- | --- | --- | --- | --- | --- |
| 1 | Jamie Whincup | 1 | Holden | 1h54m24.2583s | 88 |
| 2 | Garth Tander | 2 | Holden | 0.9616s | 88 |
| 3 | Shane van Gisbergen | 97 | Holden | 19.9939s | 88 |
| 4 | James Courtney | 22 | Holden | 20.3357s | 88 |
| 5 | Nick Percat | 222 | Holden | 21.0419s | 88 |
| 6 | Mark Winterbottom | 5 | Ford | 26.9148s | 88 |
| 7 | Chaz Mostert | 6 | Ford | 27.4999s | 88 |
| 8 | Scott Pye | 16 | Ford | 30.6811s | 88 |
| 9 | Scott McLaughlin | 33 | Volvo | 36.7411s | 88 |
| 10 | Will Davison | 9 | Mercedes | 38.4091s | 88 |
| 11 | Michael Caruso | 36 | Nissan | 38.5167s | 88 |
| 12 | David Reynolds | 55 | Ford | 44.9368s | 88 |
| 13 | Tim Slade | 47 | Holden | 50.8930s | 88 |
| 14 | Fabian Coulthard | 14 | Holden | 51.3950s | 88 |
| 15 | Lee Holdsworth | 4 | Mercedes | 51.9984s | 88 |
| 16 | James Moffat | 360 | Nissan | 52.3193s | 88 |
| 17 | Jason Bright | 8 | Holden | 56.1783s | 88 |
| 18 | Rick Kelly | 15 | Nissan | 1m03.4298s | 88 |
| 19 | Todd Kelly | 7 | Nissan | 1 Lap | 87 |
| 20 | David Wall | 17 | Ford | 1 Lap | 87 |
| 21 | Russell Ingall | 23 | Holden | 1 Lap | 87 |
| 22 | Robert Dahlgren | 34 | Volvo | 1 Lap | 87 |
| 23 | Craig Lowndes | 888 | Holden | 8 Laps | 80 |
| - | Dale Wood | 21 | Holden | Retirement | 0 |
| - | Jack Perkins | 18 | Ford | Retirement | 0 |