Pocono IndyCar: Will Power flies in second practice
| | |
| --- | --- |
| By Mark Glendenning | Saturday, July 5th 2014, 18:45 GMT |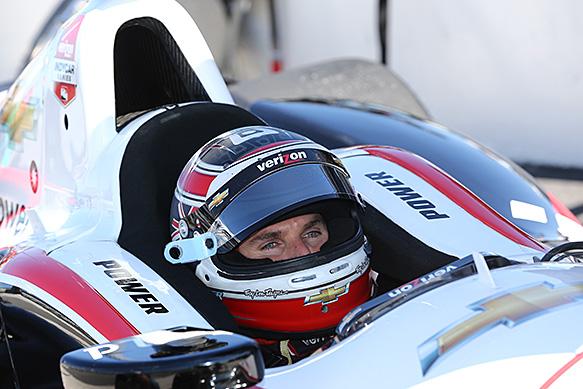 Will Power crushed Pocono's unofficial track record on his way to topping the final practice session on the 2.5 mile tri-oval ahead of qualifying later this afternoon.
Power went to P1 with a 222.475mph average with his first flying lap after a restart, and improved on it next time around to finish the session with an average of 223.348mph.
The previous single-lap track record, set by Marco Andretti last year, was 221.377mph.
"[The car's] not bad," Power said. "Obviously we've got no more practice sessions so I tried to run in traffic as much as I could.
"It's going to be interesting tomorrow because we haven't had that much practice for a 500-mile race."
In the final count, Andretti's previous record would only have been good enough for 10th-fastest in this session.
Andretti Autosport's Carlos Munoz joined Power in breaking the 223mph mark with a 223.007mph average, while third-fastest Tony Kanaan managed a 222.528mph.
The restart came after Jack Hawksworth triggered a lengthy caution period with his heavy crash at Turn 1.
The Briton lost the rear on a bump and appeared to make a slight overcorrection before the back end of the car snapped and pitched him into the barrier.
He was able to climb out of the wreckage unaided, but needed some assistance in getting to the safety vehicle.
He was checked and cleared by medical staff, who determined that he had escaped with nothing worse than a banged knee, but now faces an anxious wait as the team scrambles to repair the car in time for qualifying.
"I'm very sore, but nothing's broken I don't think, so I should be alright," he said.
"It was strange. We'd just put new tyres on and went into what is probably the easiest corner of the track, and as I got down to the apex it just got super-loose and snapped and put me into the wall.
"I'm upset for the guys because it wrecked the car, but I just don't know what happened. The balance just shifted. We'll just have to try to get the car back together and see what happens. We've got a spare tub, but it's nowhere near built up."
Prior to the crash, Takuma Sato had been the session leader, although the Japanese driver was eventually shuffled back to seventh as others made late improvements.
Elsewhere, Ryan Briscoe did well to recover to eighth fastest after losing much of the session to an electrical problem.

Pos Driver              Team/Engine       Time       Speed
 1. Will Power          Penske/Chevy      40.2959s   223.348s
 2. Carlos Munoz        Andretti/Honda    40.3574s   223.007s
 3. Tony Kanaan         Ganassi/Chevy     40.4444s   222.528s
 4. Graham Rahal        Rahal/Honda       40.4827s   222.317s
 5. Helio Castroneves   Penske/Chevy      40.4863s   222.297s
 6. Mikhail Aleshin     Schmidt/Honda     40.5007s   222.218s
 7. Takuma Sato         Foyt/Honda        40.5013s   222.215s
 8. Ryan Briscoe        Ganassi/Chevy     40.6358s   221.48 s
 9. Juan Pablo Montoya  Penske/Chevy      40.6442s   221.434s
10. Marco Andretti      Andretti/Honda    40.6575s   221.361s
11. James Hinchcliffe   Andretti/Honda    40.6576s   221.361s
12. Ed Carpenter        Carpenter/Chevy   40.7573s   220.819s
13. Charlie Kimball     Ganassi/Chevy     40.8311s   220.420s
14. Ryan Hunter-Reay    Andretti/Honda    40.8674s   220.224s
15. Simon Pagenaud      Schmidt/Honda     40.9692s   219.677s
16. Sebastien Bourdais  KV/Chevy          40.9713s   219.666s
17. Scott Dixon         Ganassi/Chevy     40.9795s   219.622s
18. Josef Newgarden     Fisher/Honda      41.0492s   219.249s
19. Jack Hawksworth     Herta/Honda       41.0962s   218.998s
20. Justin Wilson       Coyne/Honda       41.3084s   217.873s
21. Sebastian Saavedra  KV/Chevy          41.3734s   217.531s
22. Carlos Huertas      Coyne/Honda       41.8725s   214.938s