Pocono IndyCar: Tony Kanaan sets practice pace
| | |
| --- | --- |
| By Mark Glendenning | Saturday, July 5th 2014, 15:22 GMT |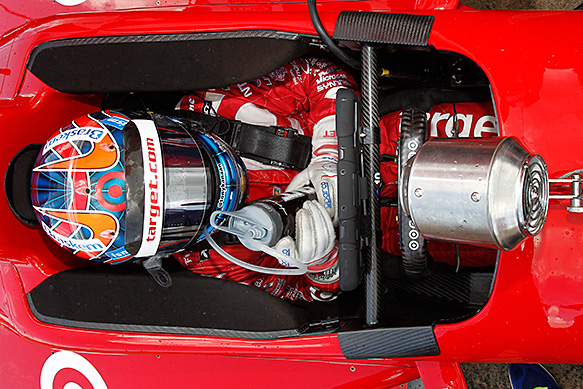 Tony Kanaan opened this weekend's IndyCar round at Pocono by setting the pace in the opening practice session.
Kanaan first moved into P1 in the opening minutes, and then reclaimed the spot from Marco Andretti with just over five minutes left on the clock. His 221.344mph lap - just a shade slower than the track record set by Andretti last year - stood until the end.
The driver who came closest to toppling the Brazilian was Ryan Hunter-Reay, who comes into the weekend looking to remain in contention for the Triple Crown by adding a victory on the 2.5 mile tri-oval to his Indy 500 win in May.
His 220.882mph effort, set on his final lap, was not enough to put him into P1, but it did allow him to leapfrog Andretti, who finished up third fastest.
James Hinchcliffe and Takuma Sato rounded out the top five, the latter moving up at the last moment to clear the time set Juan Pablo Montoya.
Helio Castroneves, who was the benchmark during the first few minutes, ended the morning down in 14th.
A largely uneventful session was interrupted by just two brief spells under caution, both of which were for track inspections.

Pos Driver              Team/Engine        Time       Speed
 1. Tony Kanaan         Ganassi/Chevy      40.6607s   221.344mph
 2. Ryan Hunter-Reay    Andretti/Honda     40.7457s   220.882mph
 3. Marco Andretti      Andretti/Honda     40.8219s   220.470mph
 4. James Hinchcliffe   Andretti/Honda     40.8384s   220.381mph
 5. Takuma Sato         Foyt/Honda         40.8387s   220.379mph
 6. Juan Pablo Montoya  Penske/Chevy       40.8870s   220.119mph
 7. Simon Pagenaud      Schmidt/Honda      40.9172s   219.956mph
 8. Mikhail Aleshin     Schmidt/Honda      41.0104s   219.457mph
 9. Will Power          Penske/Chevy       41.0126s   219.445mph
10. Carlos Munoz        Andretti/Honda     41.0192s   219.409mph
11. Scott Dixon         Ganassi/Chevy      41.0390s   219.304mph
12. Ed Carpenter        Carpenter/Chevy    41.1189s   218.877mph
13. Josef Newgarden     Fisher/Honda       41.1233s   218.854mph
14. Helio Castroneves   Penske/Chevy       41.1266s   218.836mph
15. Charlie Kimball     Ganassi/Chevy      41.1765s   218.571mph
16. Jack Hawksworth     Herta/Honda        41.2882s   217.980mph
17. Sebastien Bourdais  KV/Chevy           41.2964s   217.937mph
18. Justin Wilson       Coyne/Honda        41.4554s   217.101mph
19. Ryan Briscoe        Ganassi/Chevy      41.4837s   216.953mph
20. Graham Rahal        Rahal/Honda        41.5017s   216.859mph
21. Sebastian Saavedra  KV/Chevy           41.7244s   215.701mph
22. Carlos Huertas      Coyne/Honda        42.0664s   213.947mph