Silverstone GP2: Evans beats Palmer to win feature race
| | |
| --- | --- |
| By Charles Bradley | Saturday, July 5th 2014, 14:58 GMT |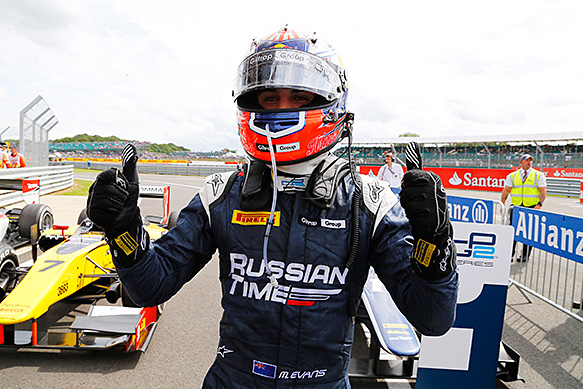 Mitch Evans scored his maiden GP2 victory at Silverstone in Saturday's feature race, winning for the Russian Time team.
Kiwi Evans, who is Mark Webber's protege, undercut long-time leader Jolyon Palmer of DAMS during the mandatory pitstop cycle.
They had duelled early in the race too, with Evans getting ahead of Palmer on the opening lap, only for the Briton to repass him on lap four.
Palmer and Evans traded fastest laps throughout, and Evans was 1.3s behind when Palmer pitted on lap 19.
A massive push from Evans before he pitted on the following lap meant he rejoined ahead, but he had to hold off Palmer with some stern defensive driving on cold tyres.
Palmer lunged him around the outside of both Brooklands and Luffield, but he ran out of track at the latter and went wide over the Astroturf.
Evans went on to win by 4.9s, and admitted: "We've been waiting too long for this, it feels nice!"
ART's Stoffel Vandoorne was a distant third, inheriting the final podium position after early leader Raffaele Marciello (Racing Engineering) retired with a technical failure at half distance and Carlin's Felipe Nasr suffered a slow pitstop.
A thrilling battle for fourth was taken by Julian Leal, who battled back from an abysmal start to pass Stefano Coletti around the outside of Stowe on the final lap. They touched there and again at Club, but Leal held on to the position.
Nasr finished in their wheeltracks in sixth, and is now 45 points behind Palmer.

Results - 29 laps

Pos Driver               Team                 Time/Gap
 1. Mitch Evans          Russian Time         50m56.307s
 2. Jolyon Palmer        DAMS                 +4.900s   
 3. Stoffel Vandoorne    ART                  +25.600s  
 4. Julian Leal          Carlin               +31.900s  
 5. Stefano Coletti      Racing Engineering   +32.000s  
 6. Johnny Cecotto Jr    Trident              +32.200s  
 7. Felipe Nasr          Carlin               +32.900s  
 8. Stephane Richelmi    DAMS                 +34.800s  
 9. Marco Sorensen       MP                   +35.000s  
10. Daniel Abt           Hilmer               +40.200s  
11. Arthur Pic           Campos               +43.000s  
12. Alexander Rossi      Caterham             +44.500s  
13. Adrian Quaife-Hobbs  Rapax                +45.700s  
14. Conor Daly           Lazarus              +47.400s  
15. Sergio Canamasas     Trident              +49.500s  
16. Takuya Izawa         ART                  +56.100s  
17. Nathanael Berthon    Lazarus              +57.800s  
18. Artem Markelov       Russian Time         +1m00.900s
19. Daniel de Jong       MP                   +1m01.600s
20. Andre Negrao         Arden                +1m03.900s
21. Rio Haryanto         Caterham             +1m04.700s
22. Jon Lancaster        Hilmer               +1m05.000s
23. Kimiya Sato          Campos               +1m18.400s
24. Rene Binder          Arden                -2 laps   
25. Simon Trummer        Rapax                -3 laps   

Retirements

    Raffaele Marciello   Racing Engineering   14 laps