British GP: Sebastian Vettel leads Red Bull 1-2 in final practice
| | |
| --- | --- |
| By Stuart Codling | Saturday, July 5th 2014, 10:18 GMT |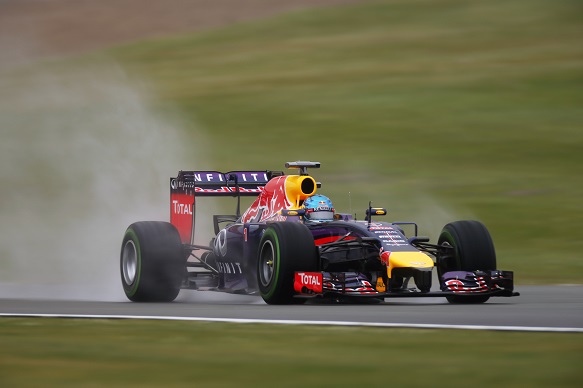 Sebastian Vettel and Daniel Ricciardo topped the timesheets for Red Bull during a damp third Formula 1 practice session for the 2014 British Grand Prix at Silverstone.
Vettel, who had a moment at Becketts shortly after setting his session-topping 1m52.522s, edged his team-mate by 0.109s. Both drivers completed just six laps.
Running conditions were very different after overnight rain, and the only consistent factor was the gusting nature of the wind, now blowing from the northwest rather than the south.
The track briefly began to dry during the opening minutes of the session before a fresh bank of rain blew in, and most teams therefore took a conservative approach.
Neither Williams drivers set a time until the final minutes, and both Mercedes drivers aborted potentially quick laps before ducking back in to the pits. Lewis Hamilton was provisionally half a second quicker than Vettel before running off-track at Stowe and heading immediately to the garage.
Lotus drivers Pastor Maldonado and Romain Grosjean were third and fourth fastest, Maldonado completing 10 laps while Grosjean called it a day after spinning at the exit of Club and nearly hitting the pit wall.
Adrian Sutil was fifth quickest, setting his best lap on intermediate tyres just before the end of the session. Sauber team-mate Esteban Gutierrez struggled to match Sutil's enterprise under braking and finished outside the top 10.
Toro Rosso's Daniil Kvyat was an impressive sixth fastest and ran the most number of laps (15), encountering a wide variety of track conditions and testing the limits of his car on a number of occasions.
Kimi Raikkonen was the only Ferrari driver to set a time, though he completed just five laps, with Fernando Alonso and both Mercedes at the foot of the timing screens without a flying lap to their names.
Max Chilton was another not to set a time, the Briton suffering a terminal gearbox problem on his installation lap that required the team to fit a new gearbox, which will mean a five-place grid penalty.
Pos  Driver               Team              Time       Gap      Laps
 1.  Sebastian Vettel  Red Bull-Renault     1m52.522s              6
 2.  Daniel Ricciardo  Red Bull-Renault     1m52.631s  +0.109s     6
 3.  Pastor Maldonado  Lotus-Renault        1m53.044s  +0.522s    10
 4.  Romain Grosjean   Lotus-Renault        1m53.566s  +1.044s     6
 5.  Adrian Sutil      Sauber-Ferrari       1m53.585s  +1.063s    12
 6.  Daniil Kvyat      Toro Rosso-Renault   1m53.654s  +1.132s    15
 7.  Kevin Magnussen   McLaren-Mercedes     1m53.911s  +1.389s     5
 8.  Jenson Button     McLaren-Mercedes     1m54.041s  +1.519s     6
 9.  Valtteri Bottas   Williams-Mercedes    1m54.217s  +1.695s     4
10.  Kimi Raikkonen    Ferrari              1m54.558s  +2.036s     5
11.  Jean-Eric Vergne  Toro Rosso-Renault   1m54.602s  +2.080s     6
12.  Esteban Gutierrez Sauber-Ferrari       1m54.761s  +2.239s    13
13.  Felipe Massa      Williams-Mercedes    1m55.003s  +2.481s     4
14.  Nico Hulkenberg   Force India-Mercedes 1m55.688s  +3.166s     6
15.  Sergio Perez      Force India-Mercedes 1m56.918s  +4.396s     7
16.  Marcus Ericsson   Caterham-Renault     1m57.091s  +4.569s    10
17.  Jules Bianchi     Marussia-Ferrari     1m57.566s  +5.044s     6
18.  Kamui Kobayashi   Caterham-Renault     1m57.914s  +5.392s    10
19.  Max Chilton       Marussia-Ferrari                            1
20.  Fernando Alonso   Ferrari                                     4
21.  Nico Rosberg      Mercedes                                    4
22.  Lewis Hamilton    Mercedes                                    5