Zandvoort F3 Masters: Max Verstappen, Indy Dontje tie in practice
| | |
| --- | --- |
| By Gary Watkins | Friday, July 4th 2014, 16:04 GMT |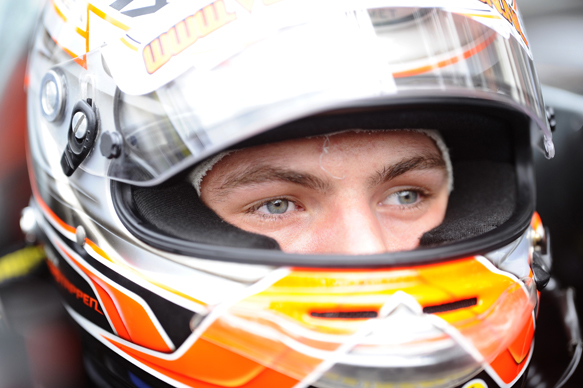 European Formula 3 Championship frontrunner Max Verstappen shared honours with Motopark team-mate Indy Dontje in practice for Sunday's Zandvoort Masters.
The 16-year-old's fastest time of 1m33.214s in second free practice was equalled by fellow Dutchman Dontje in the closing minutes of the final 40-minute session of practice for the F3 non-championship event.
Verstappen, who is attempting to emulate father Jos's 1993 victory in the Masters, had earlier topped the times in the opening session in his Dallara-Volkswagen F311.
Motopark made it a clean sweep of the top three positions with Nabil Jeffri, who was just over two tenths down on his team-mates.
A further tenth down was Steijn Schothorst, who had been second to Verstappen in the opening session aboard his Performance Racing Dallara-Volkswagen.
The two Van Amersfoort Racing entries ended up fith and sixth in the hands of Jules Szymkowiak and Sam MacLeod.
Just 11 cars are entered for the 24th running of the Masters after a number of teams failed to firm up deals with drivers in the week leading up to the race.
Fortec Motorsport, which is running a solo Dallara-Mercedes for Martin Cao, had an additional two entries for the race that had to be withdrawn.
ADM Motorsport also had plans to run a second car alongside Nikita Zlobin that failed to come to fruition.
Practice one:

Pos  Driver               Team/Car                   Time       Gap
 1.  Max Verstappen       Motopark Dallara-VW        1m33.942s
 2.  Steijn Schothorst    Performance Dallara-VW     1m34.255s  +0.313s
 3.  Indy Dontje          Motopark Dallara-VW        1m34.330s  +0.388s
 4.  Jules Szymkowiak     Van Amersfoort Dallara-VW  1m34.373s  +0.431s
 5.  Dennis van der Laar  Double R Dallara-Merc      1m34.374s  +0.432s
 6.  Sam MacLeod          Van Amersfoort Dallara-VW  1m34.496s  +0.554s
 7.  Nabil Jeffri         Motopark Dallara-VW        1m34.947s  +1.005s
 8.  Andy Chang           Double R Dallara-Merc      1m35.466s  +1.524s
 9.  Martin Cao           Fortec Dallara-Merc        1m35.536s  +1.594s
10.  Camren Kaminsky      Double R Dallara-Merc      1m35.960s  +2.018s
11.  Nikita Zlobin        ADM Dallara-VW             1m36.621s  +2.679s

Practice two:

Pos  Driver               Team/Car                   Time       Gap
 1.  Max Verstappen       Motopark Dallara-VW        1m33.214s
 2.  Indy Dontje          Motopark Dallara-VW        1m33.214s  +0.000s
 3.  Nabil Jeffri         Motopark Dallara-VW        1m33.478s  +0.264s
 4.  Steijn Schothorst    Performance Dallara-VW     1m33.538s  +0.324s
 5.  Jules Szymkowiak     Van Amersfoort Dallara-VW  1m33.897s  +0.683s
 6.  Sam MacLeod          Van Amersfoort Dallara-VW  1m33.932s  +0.718s
 7.  Andy Chang           Double R Dallara-Merc      1m34.203s  +0.989s
 8.  Nikita Zlobin        ADM Dallara-VW             1m34.337s  +1.123s
 9.  Camren Kaminsky      Double R Dallara-Merc      1m34.736s  +1.522s
10.  Martin Cao           Fortec Dallara-Merc        1m35.196s  +1.982s
11.  Dennis van der Laar  Double R Dallara-Merc      1m35.869s  +2.655s