FIA wants F1 teams to make decision on noise of 2014 cars
| | |
| --- | --- |
| By Jonathan Noble | Friday, July 4th 2014, 10:46 GMT |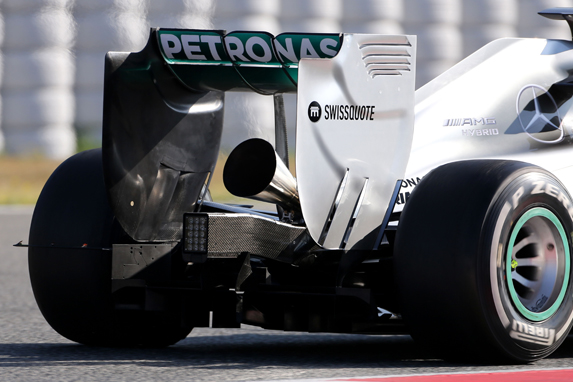 The FIA says that Formula 1 teams must now decide for themselves if is worth continuing efforts to improve the sound of the cars.
Work is ongoing to try to find a solution that will make the current turbo engines noisier, following complaints from fans earlier this year that they are too quiet.
But with a megaphone concept tried by Mercedes at Barcelona earlier this year having not worked, one idea being investigated is a double tailpipe solution.
F1 race director Charlie Whiting reckons that would require quite a few design changes at the rear of the cars, which could impact on aerodynamics.
He says the teams must get together to work out if they think the value of added noise is greater than the efforts need to tweak the 2015 design concepts.
When asked by AUTOSPORT about progress on the sound issue, Whiting said: "Noise is something that we're still working on.
"A solution that has been tested on a dyno is to split the exhaust. We've [currently] got one tailpipe in the centre of the car where all the exhaust gases come out.
"We did this purposefully to minimise the effect of the exhaust gases [on aerodynamics] because, as you know, we've had lots of problems with the rules on exhausts.
"What they've found is that by splitting that exhaust, you do get more noise.
"It would seem to work, especially with megaphones, be they round or rectangular, to some extent. The next step is to look at the feasibility of doing it.
"If you're going to put a megaphone or two on the back of a car, there's a lot of interaction between wing pillars, rear wings, monkey seat wings, rear impact structures, rear lights.
"All those sorts of things would have to be re-engineered, potentially, to accommodate two exhaust pipes instead of one. It's not a straightforward job.
"And I think the next step is to assess whether or not everyone feels this is a worthwhile thing to do. That's where we are."