Mercedes F1 move would not cure Lotus issues instantly - Maldonado
| | |
| --- | --- |
| By Edd Straw and Matt Beer | Thursday, July 3rd 2014, 15:05 GMT |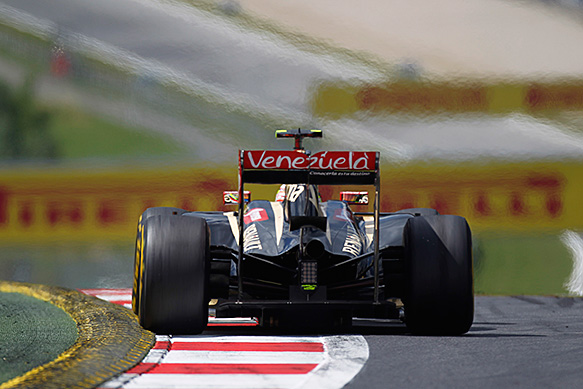 Switching to Mercedes engines would not instantly cure the Lotus Formula 1 team's problems, reckons Pastor Maldonado, as the squad investigates a split with current supplier Renault.
AUTOSPORT understands that Lotus is in advanced talks with Mercedes over a 2015 F1 engine deal.
The Enstone team has used Renault or Renault-derived power since 1995 in its various guises, but the French firm has had a troubled 2014 season so far.
Asked by AUTOSPORT if he would like Lotus to switch to Mercedes, Maldonado said Renault should not be written off.
"If it's just magic that you can put the [Mercedes] engine in and then go and win races, OK let's go for it," he said.
"But it is not that simple, you need to take care of the design of the car.
"It's not an easy decision and Renault has always been very successful in the past. Hopefully they can improve next year, or even from here to get closer and closer, at least to the Ferrari level in terms of engine.
"Behind the engine there is a huge amount of work in terms of design for the car, so I'm not 100 per cent sure about the move."
Maldonado's team-mate Romain Grosjean was also non-committal over the Mercedes talks, pointing out that Nico Rosberg and Lewis Hamilton's current advantage was not just down to their engine.
"To be fair we'd all love to be in the Mercedes car, it looks really nice to drive..." he joked.
Grosjean agreed that Renault could not take all the blame for Lotus's mediocre start to the year.
"I think the car isn't as good as last year. That's no lie," he said.
"Of course we are struggling with a lack of power from the engine, which can explain a little bit of the lost performance. But still Red Bull and Toro Rosso have the same power unit and we need to beat them.
"I think the car hasn't been as good as last year, but it's not as bad as it looks. When every box is ticked, we could go P5 at Barcelona and that didn't come out of the blue."
While not giving Lotus's pursuit of Mercedes power their full backing, both drivers admitted that Renault's problems had been frustrating.
"It's tough, very tough," said Maldonado.
"When you have a big transition like that in terms of technology you always have some problems, but we didn't expect to have that much. At the moment, in my opinion, it's just too much."