Bahrain Formula 3 winter series to feature night race
| | |
| --- | --- |
| By Marcus Simmons | Thursday, July 3rd 2014, 12:15 GMT |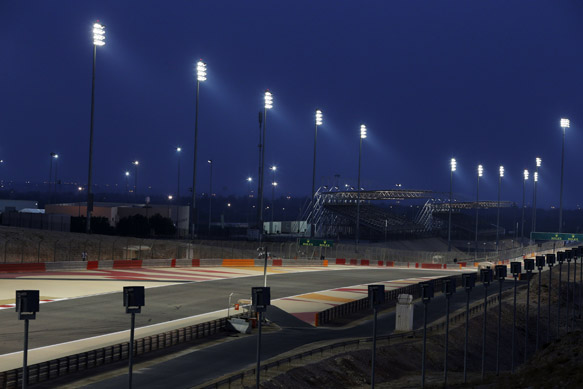 The FIA's new Bahrain-based Formula 3 Middle East Cup will consist of six races over two meetings, one of which will be a night race, AUTOSPORT has learned.
The governing body is seeking a promoter for its January winter series, which will take place at the Sakhir Formula 1 circuit over a 10-day period.
Testing and racing will be held over two configurations of the circuit, one of which will be the Grand Prix layout.
Although logistical details are still far from sorted, this is the schedule that was approved by last week's meeting of the World Motor Sport Council.
Days 1/2: testing
Days 3/4: three qualifying sessions and three races
Days 5/6: no action, as track is changed to different configuration
Days 7/8: testing
Days 9/10: three qualifying sessions and three races
Teams have welcomed the initiative, subject to transportation concerns regarding returning from November's Macau Grand Prix and the testing that is usually carried out in Spain and Portugal during December.
Carlin boss Trevor Carlin said: "It's fantastic. I've been there with GP2, and the F3 race we had there in 2004 (pictured) was just epic.
"It's an F1 circuit, it's reasonably safe so you can do plenty of mileage, and it helps make new drivers race-ready for the start of the season.
"But I've no idea what the logistics will be. You don't get the Macau cars back by seafreight until late December, and the only reason we can do December testing is because we pay £35,000 to airfreight four cars back.
"If the plan is to ship the cars direct from Macau to Bahrain, that will affect things - they might want to sit down with us so we can give them some pointers."
Van Amersfoort Racing head Frits van Amersfoort said: "The idea is not new and it's going to depend on how it's worked out.
"When we go winter testing, sometimes the drivers have to decide within two days if they can make it - if we're testing at Valencia, I can tell the driver to step on an aeroplane and be at the track the next day.
"But you won't be able to decide two days before Bahrain that you're going to do it."