Norisring European F3: Felix Rosenqvist snatches last-gasp pole
| | |
| --- | --- |
| By Marcus Simmons | Friday, June 27th 2014, 16:44 GMT |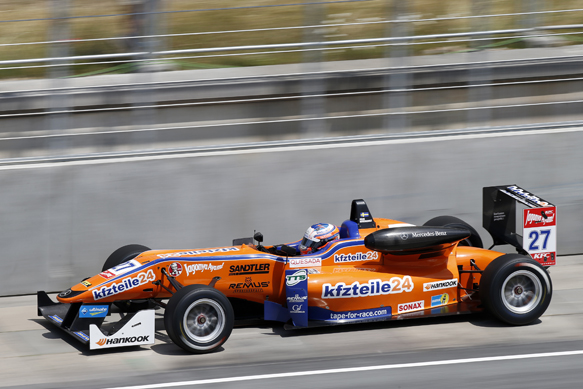 Felix Rosenqvist snatched pole position on the very last lap of a thrilling qualifying session for this weekend's opening Formula 3 European Championship race at the Norisring.
The Swede found a chunk of time thanks to finally nailing the final corner, with which he had been having trouble all day, in his Mucke Motorsport Dallara-Mercedes.
The lap denied championship leader Esteban Ocon of pole by just three thousandths of a second - the Lotus F1 junior's Prema Powerteam Dallara-Mercedes had languished in the lower reaches of the top 20 halfway through the session, before the Frenchman leapt up the order with a few minutes remaining.
The early pacesetter was Max Verstappen, who sat on pole by three tenths at the mid-point in his Van Amersfoort Racing Dallara-Volkswagen.
He ended up only 11 thousandths adrift of Rosenqvist, citing bad luck with traffic and suggesting that there could be a rethink on tyre pressures before Saturday's opening race.
Rosenqvist was understandably happy with his first pole of the 2014 F3 season.
"In the beginning I was trying to get a slipstream," he said, "but then I decided to go alone and work on my references. I think I made the right decision.
"I don't really enjoy driving this track, but as long as we are quick I don't mind."
Tom Blomqvist was a contender for much of the session, but finally fell two tenths short in the lead Carlin Dallara-Volkswagen to take fourth on the grid.
As well as Rosenqvist, the Mucke team got three drivers in the top six, with Lucas Auer fifth and Roy Nissany - the surprise of the weekend to date - in sixth pace.
Nissany headed a group of eight drivers covered by a tenth of a second, with Carlin's Jake Dennis next, and Gustavo Menezes, Mitch Gilbert and Jordan King completing the top 10.
Highlighting Ocon's performance was the form of his Prema team-mates, with Nicholas Latifi, Antonio Fuoco and Dennis van de Laar down in 11th, 14th and 19th respectively.
The field is so close that 25 of the 26 drivers qualified within a second of pole.
Pos  Driver               Team/Car                        Time     Gap
 1.  Felix Rosenqvist     Mucke Dallara-Merc              48.082s
 2.  Esteban Ocon         Prema Dallara-Merc              48.085s  +0.003s
 3.  Max Verstappen       Van Amersfoort Dallara-VW       48.093s  +0.011s
 4.  Tom Blomqvist        Carlin Dallara-VW               48.262s  +0.180s
 5.  Lucas Auer           Mucke Dallara-Merc              48.321s  +0.239s
 6.  Roy Nissany          Mucke Dallara-Merc              48.432s  +0.350s
 7.  Jake Dennis          Carlin Dallara-VW               48.437s  +0.355s
 8.  Gustavo Menezes      Van Amersfoort Dallara-VW       48.439s  +0.357s
 9.  Mitchell Gilbert     Fortec Dallara-Merc             48.466s  +0.384s
10.  Jordan King          Carlin Dallara-VW               48.470s  +0.388s
11.  Nicholas Latifi      Prema Dallara-Merc              48.489s  +0.407s
12.  Jules Szymkowiak     Van Amersfoort Dallara-VW       48.495s  +0.413s
13.  Antonio Giovinazzi   Carlin Dallara-VW               48.509s  +0.427s
14.  Antonio Fuoco        Prema Dallara-Merc              48.576s  +0.494s
15.  Spike Goddard        T-Sport Dallara-NBE             48.646s  +0.564s
16.  Felix Serralles      West-Tec Dallara-Merc           48.650s  +0.568s
17.  Tatiana Calderon     Jo Zeller Dallara-Merc          48.704s  +0.622s
18.  Sean Gelael          Carlin Dallara-VW               48.797s  +0.715s
19.  Dennis van de Laar   Prema Dallara-Merc              48.835s  +0.753s
20.  Santino Ferrucci     Eurointernational Dallara-Merc  48.838s  +0.756s
21.  Michele Beretta      Eurointernational Dallara-Merc  48.858s  +0.776s
22.  Felipe Guimaraes     Double R Dallara-Merc           48.903s  +0.821s
23.  Sandro Zeller        Jo Zeller Dallara-Merc          48.955s  +0.873s
24.  Alexander Toril      T-Sport Dallara-NBE             48.979s  +0.897s
25.  John Bryant-Meisner  Fortec Dallara-Merc             49.051s  +0.969s
26.  Hector Hurst         West-Tec Dallara-Merc           49.342s  +1.260s