Norisring European F3: Max Verstappen fastest in practice
| | |
| --- | --- |
| | Friday, June 27th 2014, 13:06 GMT |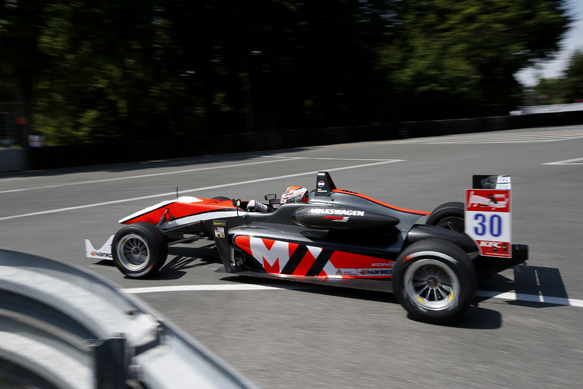 Max Verstappen topped both free practice sessions for this weekend's Formula 3 European Championship round at the Norisring.
The 16-year-old Belgo-Dutchman belied the fact that he had never driven on the Nuremberg street track, and at the end of the two 40-minute free practice sessions his Van Amersfoort Racing Dallara-Volkswagen was 0.085 seconds clear.
It was Tom Blomqvist who emerged in second place, the Jagonya Ayam with Carlin Dallara-VW driver edging out Lucas Auer in the leading Mucke Motorsport Dallara-Mercedes.
Championship leader Esteban Ocon, like Verstappen a Norisring virgin, was fourth fastest in his Prema Powerteam Dallara-Mercedes, with his team-mate Antonio Fuoco and the Team West-Tec Dallara-Merc of Felix Serralles completing the top six.
Felix Rosenqvist was third in the opening session, which began on a dusty track in bright Bavarian sunshine, but could only trim a couple of tenths off that in the second period, in which he dropped to seventh.
The Mucke-run Swede only just pipped his Israeli team-mate Roy Nissany, who was the surprise package of the lunchtime running.
Also impressive was Dutchman Jules Szymkowiak, the VAR driver ending up in ninth place.
Save for the odd spin there was little drama, although Jordan King had to pull off the road on the approach to the final turn with seven minutes remaining with a suspected broken throttle cable, although he just about stayed in the top 10.
Practice one:

Pos  Driver               Team/Car                        Time     Gap
 1.  Max Verstappen       Van Amersfoort Dallara-VW       49.029s
 2.  Lucas Auer           Mucke Dallara-Merc              49.064s  +0.035s
 3.  Felix Rosenqvist     Mucke Dallara-Merc              49.097s  +0.068s
 4.  Jordan King          Carlin Dallara-VW               49.274s  +0.245s
 5.  Tom Blomqvist        Carlin Dallara-VW               49.286s  +0.257s
 6.  Antonio Fuoco        Prema Dallara-Merc              49.303s  +0.274s
 7.  Esteban Ocon         Prema Dallara-Merc              49.314s  +0.285s
 8.  Felix Serralles      West-Tec Dallara-Merc           49.397s  +0.368s
 9.  Antonio Giovinazzi   Carlin Dallara-VW               49.465s  +0.436s
10.  Roy Nissany          Mucke Dallara-Merc              49.477s  +0.448s
11.  Jake Dennis          Carlin Dallara-VW               49.483s  +0.454s
12.  Nicholas Latifi      Prema Dallara-Merc              49.489s  +0.460s
13.  Spike Goddard        T-Sport Dallara-NBE             49.545s  +0.516s
14.  Gustavo Menezes      Van Amersfoort Dallara-VW       49.553s  +0.524s
15.  Sean Gelael          Carlin Dallara-VW               49.712s  +0.683s
16.  Tatiana Calderon     Jo Zeller Dallara-Merc          49.719s  +0.690s
17.  Dennis van de Laar   Prema Dallara-Merc              49.827s  +0.798s
18.  Sandro Zeller        Jo Zeller Dallara-Merc          49.860s  +0.831s
19.  Jules Szymkowiak     Van Amersfoort Dallara-VW       49.907s  +0.878s
20.  Mitchell Gilbert     Fortec Dallara-Merc             49.963s  +0.934s
21.  Santino Ferrucci     Eurointernational Dallara-Merc  50.052s  +1.023s
22.  Felipe Guimaraes     Double R Dallara-Merc           50.321s  +1.292s
23.  Michele Beretta      Eurointernational Dallara-Merc  50.351s  +1.322s
24.  John Bryant-Meisner  Fortec Dallara-Merc             50.419s  +1.390s
25.  Alexander Toril      T-Sport Dallara-NBE             50.651s  +1.622s
26.  Hector Hurst         West-Tec Dallara-Merc           50.789s  +1.760s

Practice two:

Pos  Driver               Team/Car                        Time     Gap
 1.  Max Verstappen       Van Amersfoort Dallara-VW       48.387s
 2.  Tom Blomqvist        Carlin Dallara-VW               48.472s  +0.085s
 3.  Lucas Auer           Mucke Dallara-Merc              48.617s  +0.230s
 4.  Esteban Ocon         Prema Dallara-Merc              48.684s  +0.297s
 5.  Antonio Fuoco        Prema Dallara-Merc              48.855s  +0.468s
 6.  Felix Serralles      West-Tec Dallara-Merc           48.859s  +0.472s
 7.  Felix Rosenqvist     Mucke Dallara-Merc              48.866s  +0.479s
 8.  Roy Nissany          Mucke Dallara-Merc              48.875s  +0.488s
 9.  Jules Szymkowiak     Van Amersfoort Dallara-VW       48.904s  +0.517s
10.  Jordan King          Carlin Dallara-VW               48.917s  +0.530s
11.  Antonio Giovinazzi   Carlin Dallara-VW               48.922s  +0.535s
12.  Spike Goddard        T-Sport Dallara-NBE             48.927s  +0.540s
13.  Nicholas Latifi      Prema Dallara-Merc              48.976s  +0.589s
14.  Jake Dennis          Carlin Dallara-VW               48.984s  +0.597s
15.  Sean Gelael          Carlin Dallara-VW               49.054s  +0.667s
16.  Tatiana Calderon     Jo Zeller Dallara-Merc          49.091s  +0.704s
17.  Gustavo Menezes      Van Amersfoort Dallara-VW       49.144s  +0.757s
18.  Dennis van de Laar   Prema Dallara-Merc              49.147s  +0.760s
19.  Mitchell Gilbert     Fortec Dallara-Merc             49.162s  +0.775s
20.  Felipe Guimaraes     Double R Dallara-Merc           49.302s  +0.915s
21.  Michele Beretta      Eurointernational Dallara-Merc  49.480s  +1.093s
22.  Alexander Toril      T-Sport Dallara-NBE             49.610s  +1.223s
23.  Santino Ferrucci     Eurointernational Dallara-Merc  49.625s  +1.238s
24.  John Bryant-Meisner  Fortec Dallara-Merc             49.656s  +1.269s
25.  Sandro Zeller        Jo Zeller Dallara-Merc          49.818s  +1.431s
26.  Hector Hurst         West-Tec Dallara-Merc           49.909s  +1.522s