Red Bull's Horner says F1 promoters should learn from Austrian GP
| | |
| --- | --- |
| By Jonathan Noble | Thursday, June 26th 2014, 10:54 GMT |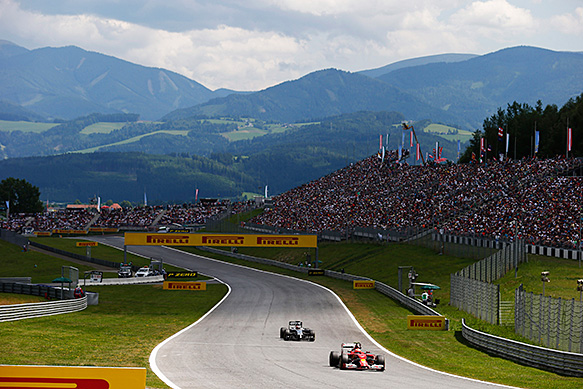 Formula 1's race promoters should take on board lessons from how the Austrian Grand Prix made a big impact on its return to the calendar, reckons Red Bull boss Christian Horner.
After a sell-out crowd filled the Red Bull Ring last weekend, and F1 insiders praised the efforts of the track's owners to deliver a festival atmosphere, Horner reckons other venues should take heed in how to boost fan interest.
"I think the return of this race has been fantastic," said Horner, who viewed the weekend as a success despite the struggles of his own outfit.

Austria revived F1's feel-good factor
"It's an event for the fan, so our own frustrations are irrelevant in that respect, because the weekend as a whole has been fantastic. It's been an enormous crowd, wall to wall action and a great atmosphere.
"I think you have to really applaud Dietrich Mateschitz for the commitment and the vision that he's had in bringing this grand prix back to Austria.
"I think it's a great example for all the promoters about what can be done over a grand prix weekend.
"There's been a carnival and festival atmosphere. Every five minutes there's been something different going on."
F1 has been accused in recent years of preferring to chase grands prix in countries that are willing to pay the most money, rather than those that have the biggest fan interest.
Horner thinks that it vital promoters do all they can to ramp up spectator excitement, which means delivering the right ticket prices and ensuring entertainment.
"I think we had over 100,000 people in Austria and those tickets sold out in about 36 hours," he said. "The tickets were also affordable.
"It was well planned and well organised. The key thing is having the right promoters involved. Red Bull have demonstrated how an event can be promoted and organised.
"This event wasn't for Red Bull Racing, it was for the fans. Dietrich deserves all the credit for having the vision and commitment to invest."