GT4 class could have stand-alone races in British GT Championship
| | |
| --- | --- |
| By Gary Watkins | Thursday, June 26th 2014, 10:05 GMT |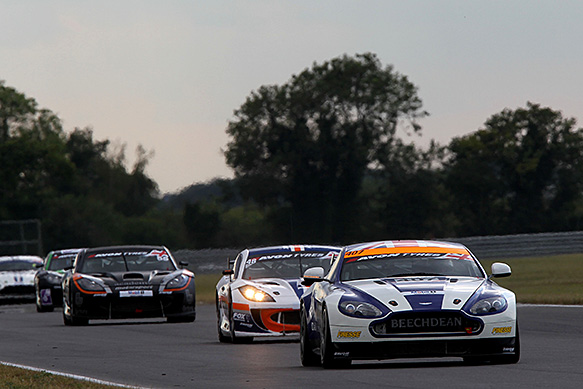 The British GT Championship's GT4 class could have stand-alone races next season.
Series boss Stephane Ratel has revealed that he is considering separate races for the main GT3 division and British GT's secondary class at some venues in 2015.
He said the idea is a response to calls from some team owners for separate races, the growth of the GT4 grid for this season and the fact that series is oversubscribed.
Ratel told AUTOSPORT: "We are having the debate about separate races for next season: it is a preliminary project at the moment, but it could work.
"We have 12 cars in GT4 and there is potential to grow.
"We also have an agreement with Aston Martin to run its [one-make] GT4 Challenge at our events, so it would be a logical step if its competitors joined our GT4 cars."
Aston Martin Racing boss John Gaw said he we was open to the idea of his series joining up with stand-alone GT4 races.
"We would certainly be happy to put our cars into separate GT4 races," he said.
The idea of separate races was raised by Beachdean AMR boss Andrew Howard, whose squad runs a car in each class, after an incident with a GT4 car cost him and Jonny Adam the chance of victory at the Silverstone three-hour race in June.
Century Motorsport boss Nathan Freke, whose team run a pair of Ginetta G55 GT4s in the series, questioned the merits of separate races for the two classes.
"I am not totally against it, because a GT4 championship on its own could attract more cars," he said.
"On the other hand, not being part of the main event could lose GT4 some credibility."
Freke also pointed out that sportscar racing is, for the most part, a multi-class discipline.
"In most types of endurance racing, there are different classes of car and the drivers have to learn to deal with that - that is part of the game," he explained.
Ratel explained that he is contemplating separate GT4 and GT3 races only at selected rounds.
"Some of the GT4 teams think it would be great to win races overall and some think separate races would detract from the flavour of the series," he continued.
"That's why we are looking at half and half for next year.
"We could have separate grids at Snetterton and Oulton, but then bring GT3 and GT4 back together for Silverstone and Spa."