Spa WTCC: Yvan Muller takes comfortable win in race one
| | |
| --- | --- |
| By Peter Mills | Sunday, June 22nd 2014, 11:58 GMT |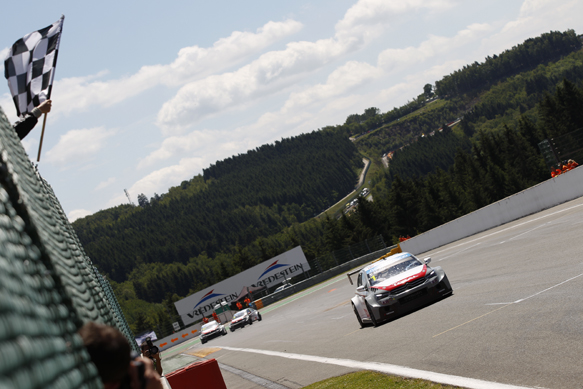 Yvan Muller scored a comfortable fourth World Touring Car Championship victory of the season on the series' return to Spa-Francorchamps for the first time since 2005.
The reigning WTCC champion's success was assisted by an intense intra-team fight in his mirrors between Citroen team-mates Sebastien Loeb and championship leader Jose Maria Lopez.
Loeb was forced to make repeated moves to cover his inside line from Lopez's advances into the Les Combes chicane. The triple TC2000 champion left it until the last lap before committing himself to a bold manoeuvre around World Rally Championship legend Loeb's outside.
Loeb appeared to cooperate and give his stable-mate racing room by mounting Les Combes' inside kerbs, allowing Lopez to complete the pass without contact.
The intense battle allowed Muller to secure a 3.6s margin of victory, and the Alsace driver reduced his deficit to Lopez in the standings by seven points, having started the race some 39 points adrift.
The Citroen men displayed arguably their most pronounced domination of the season. Muller finished a commanding 21s ahead of Hungaroring victor Gianni Morbidelli.
Morbidelli had qualified a lowly ninth, but took advantage of confusion on the run from Eau Rouge to Les Combes on the opening lap to gain four places.
The drama was precipitated when fourth-place starter Hugo Valente ran wheel-to-wheel with Gabriele Tarquini into Eau Rouge. Tarquini was presented with little option other than to lift, and the chasing pack fanned across the road in search of racing room as the C-Elysees and Valente staged a break.
Morbidelli emerged from chaos at Les Combes holding fifth place, narrowly ahead of the grid-penalised Tiago Monteiro, who was up from 10th.
Valente circulated alone in fourth place until being called in to serve a drive-through penalty on lap five for track limits infringements. Proteam Honda racer Mehdi Bennani received a similar punishment from race officials.
Monteiro mounted a last-lap attack on Morbidelli for fourth into the Bus Stop. The late-braking may have compromised the former grand prix driver's exit as Tom Coronel took advantage to steal fifth by 0.073s on the run to the line.
Lada racer Rob Huff, who has also been participating in this weekend's Nurburgring 24 Hours, suffered a first lap trip through the gravel on the exit of Les Combes but recovered to finish 16th.
| Pos | Driver | Team | Car | Laps | Time/Gap |
| --- | --- | --- | --- | --- | --- |
| 1 | Yvan Muller | Citroen Total WTCC | Citroen | 9 | 22m09.364s |
| 2 | Jose Maria Lopez | Citroen Total WTCC | Citroen | 9 | 3.689s |
| 3 | Sebastien Loeb | Citroen Total WTCC | Citroen | 9 | 4.318s |
| 4 | Gianni Morbidelli | All-Inkl.com Munnich Motorsport | Chevrolet | 9 | 21.125s |
| 5 | Tom Coronel | ROAL Motorsport | Chevrolet | 9 | 21.998s |
| 6 | Tiago Monteiro | Castrol Honda WTC Team | Honda | 9 | 22.071s |
| 7 | Norbert Michelisz | Zengo Motorsport | Honda | 9 | 23.517s |
| 8 | Gabriele Tarquini | Castrol Honda WTC Team | Honda | 9 | 24.350s |
| 9 | Dusan Borkovic | NIS Petrol by Campos Racing | Chevrolet | 9 | 30.094s |
| 10 | Tom Chilton | ROAL Motorsport | Chevrolet | 9 | 30.940s |
| 11 | Ma Qing Hua | Citroen Total WTCC | Citroen | 9 | 31.821s |
| 12 | Hugo Valente | Campos Racing | Chevrolet | 9 | 39.719s |
| 13 | Mehdi Bennani | Proteam Racing | Honda | 9 | 45.992s |
| 14 | Mikhail Kozlovskiy | LADA Sport Lukoil | Lada | 9 | 47.654s |
| 15 | Rene Munnich | All-Inkl.com Munnich Motorsport | Chevrolet | 9 | 48.196s |
| 16 | Rob Huff | LADA Sport Lukoil | Lada | 9 | 57.311s |
| 17 | James Thompson | LADA Sport Lukoil | Lada | 9 | 1m09.895s |
| 18 | Franz Engstler | Liqui Moly Team Engstler | BMW | 9 | 1m28.674s |
| 19 | John Filippi | Campos Racing | SEAT | 9 | 1m42.573s |
| 20 | Norbert Nagy | Campos Racing | SEAT | 9 | 1m43.916s |
| 21 | Pasquale Di Sabatino | Liqui Moly Team Engstler | BMW | 8 | 1 Lap |