Spa WTCC: Jose Maria Lopez continues to dominate
| | |
| --- | --- |
| By Peter Mills | Saturday, June 21st 2014, 11:58 GMT |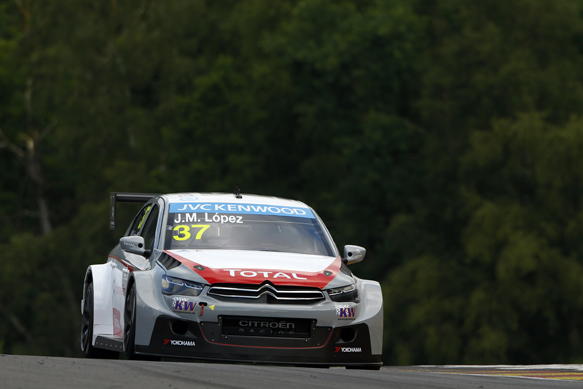 Jose Maria Lopez maintained his Friday margin of superiority over his Citroen World Touring Car Championship team-mates in Spa-Francorchamps practice on Saturday.
The series leader recorded the fastest time of the day so far during practice one, with a 1m24.350s on his second flying lap.
Lopez ended the session 1.198 seconds up on title rival Yvan Muller, while just 0.05s covered Muller, Ma Qing Hua and World Rally Championship legend Sebastien Loeb in the remaining three Citroens.
Ma's final effort had fleetingly moved him up to second, but the time was disallowed for breach of track limits at Blanchimont.
Lada team-mates James Thompson and Mikhail Kozlovskiy, as well as Yokohama Trophy leader Franz Engstler, also had laptimes annulled by race officials. Indeed, cars cutting Eau Rouge and running with all four wheels off the road on corner exits was a theme of both practice sessions.
Campos Chevrolet driver Hugo Valente continued his strong early-weekend form of 2014 by finishing top non-C-Elysee runner in fifth and then secured second behind Lopez in practice two with a lap completed just after the chequered flag.
Lopez was two tenths adrift of his morning effort in the afternoon session but was again the only driver to dip below the 2m25s mark. He was seven tenths clear of Valente, with Muller a further 0.128s behind.
Ma recovered from being shown a black and white warning flag for track limit infringements to make it three Citroens in the top four, but Loeb had a relatively low-key session prior to qualifying and ended the afternoon ninth.
Leading Honda representative Mehdi Bennani was seven tenths adrift of Valente in practice one's 'best of the rest' battle. Gabriele Tarquini took fifth later on, but was another to receive a warning flag for breach of track limits.
The former WTCC champion was stripped of one competitive time, but produced a lap that secured fifth in the final five minutes of action.
Dusan Borkovic completed the free practice two top six. The Serbian bounced back from a spin in the opening practice session, when he lost the rear of his Campos Cruze at the final part of Les Combes.
Rob Huff showed no ill effects from frequent commuting between Spa and the Nurburgring, where he is competing in this weekend's Nurburgring 24 Hours, to secure in-house Lada honours in 14th in the morning.
Practice one:

Pos  Driver                Team/Car           Time       Gap
 1.  Jose Maria Lopez      Citroen            2m24.350s
 2.  Yvan Muller           Citroen            2m25.548s  +1.198s
 3.  Ma Qing Hua           Citroen            2m25.628s  +1.278s
 4.  Sebastien Loeb        Citroen            2m25.698s  +1.348s
 5.  Hugo Valente          Campos Chevrolet   2m25.804s  +1.454s
 6.  Mehdi Bennani         Proteam Honda      2m26.678s  +2.328s
 7.  Tom Chilton           ROAL Chevrolet     2m26.690s  +2.340s
 8.  Gabriele Tarquini     Honda              2m26.784s  +2.434s
 9.  Tiago Monteiro        Honda              2m26.842s  +2.492s
10.  Norbert Michelisz     Zengo Honda        2m27.422s  +3.072s
11.  Tom Coronel           ROAL Chevrolet     2m27.453s  +3.103s
12.  Dusan Borkovic        Campos Chevrolet   2m27.894s  +3.544s
13.  Gianni Morbidelli     Munnich Chevrolet  2m28.160s  +3.810s
14.  Rob Huff              Lada               2m28.407s  +4.057s
15.  Rene Munnich          Munnich Chevrolet  2m29.300s  +4.950s
16.  James Thompson        Lada               2m29.689s  +5.339s
17.  Mikhail Kozlovskiy    Lada               2m30.217s  +5.867s
18.  Franz Engstler        Engstler BMW       2m34.994s  +10.644s*
19.  Pasquale Di Sabatino  Engstler BMW       2m35.805s  +11.455s*
20.  John Filippi          Campos SEAT        2m36.715s  +12.365s*
21.  Norbert Nagy          Campos SEAT        2m44.292s  +19.942s*

* TC2

Practice two:

Pos  Driver                Team/Car           Time       Gap
 1.  Jose Maria Lopez      Citroen            2m24.561s
 2.  Hugo Valente          Campos Chevrolet   2m25.275s  +0.714s
 3.  Yvan Muller           Citroen            2m25.403s  +0.842s
 4.  Ma Qing Hua           Citroen            2m25.492s  +0.931s
 5.  Gabriele Tarquini     Honda              2m25.537s  +0.976s
 6.  Dusan Borkovic        Campos Chevrolet   2m26.214s  +1.653s
 7.  Tiago Monteiro        Honda              2m26.368s  +1.807s
 8.  Sebastien Loeb        Citroen            2m26.465s  +1.904s
 9.  Tom Coronel           ROAL Chevrolet     2m27.129s  +2.568s
10.  Gianni Morbidelli     Munnich Chevrolet  2m27.614s  +3.053s
11.  Norbert Michelisz     Zengo Honda        2m27.771s  +3.210s
12.  Rob Huff              Lada               2m27.804s  +3.243s
13.  Tom Chilton           ROAL Chevrolet     2m28.660s  +4.099s
14.  Mehdi Bennani         Proteam Honda      2m28.724s  +4.163s
15.  James Thompson        Lada               2m28.902s  +4.341s
16.  Rene Munnich          Munnich Chevrolet  2m30.019s  +5.458s
17.  Mikhail Kozlovskiy    Lada               2m31.265s  +6.704s
18.  Franz Engstler        Engstler BMW       2m33.903s  +9.342s*
19.  John Filippi          Campos SEAT        2m36.443s  +11.882s*
20.  Pasquale Di Sabatino  Engstler BMW       2m36.725s  +12.164s*
21.  Norbert Nagy          Campos SEAT        2m38.778s  +14.217s*

* TC2