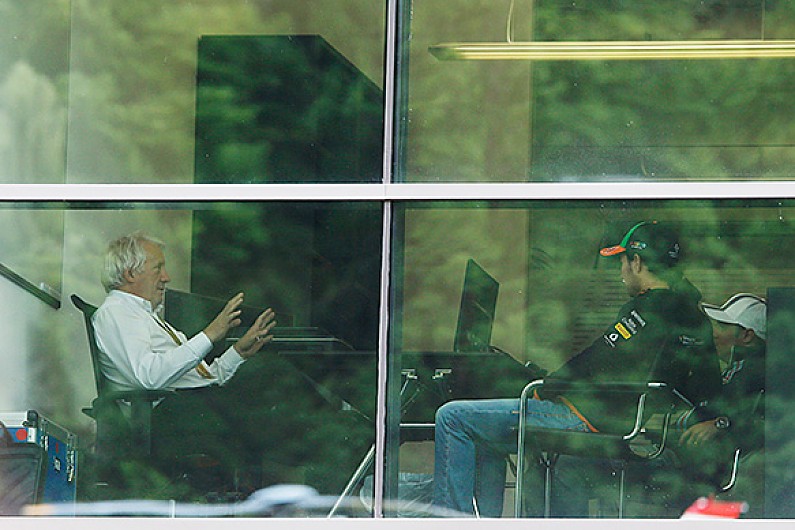 The FIA has upheld the decision to punish Sergio Perez with a five-place grid penalty for causing the crash with Felipe Massa at the Canadian Grand Prix.
The Formula 1 stewards were convened in Austria on Friday to hear fresh evidence from Perez about the last-lap accident, which included the driver's testimony and telemetry data.
But despite the team being confident ahead of the hearing about the situation, the FIA decided that there were no grounds to change the original decision.
A statement issued by the FIA said that it was wrong of Perez to try to defend his position in the braking area for the corner.
It said: "The driver of car #11 contended that the new elements(s) evidenced that in defending his position he was exercising his right, under Article 20.4 of the 2014 Formula 1 sporting regulations, to use the whole track.
"However, it was clear to the stewards that the defence of his position occurred in the braking area. Article 20.4 specifically states that any right to defend by using the whole track must occur prior to any braking area.
"Accordingly the driver of car #11 was not entitled to defend his position in the manner he did."
PEREZ DISAPPOINTED
Perez was unhappy with the decision of the stewards, as he remained adamant he had done nothing wrong in the crash.
"We went there to show all the data, the lines, and the pictures we have that we couldn't show in Montreal," explained the Mexican. "We felt very confident we had the proof.
"The stewards looked to be quite sensible and agreed to an extent with everything I said there, but when they released [the verdict] the situation didn't change at all.
"So it was a bit disappointing but it's time to move on. It will be a big pain to be five places back on this track, where it's difficult to overtake."
Although the FIA is changing its approach to handing out penalties for drivers in the event of accidents from this weekend's Austrian GP, it offered little consolation to Perez.
"It will not change much," he said. "Let's see what happens in the future, but with an incident like this where they penalise someone and I felt we both did our bit to collide, it was just the last lap and very unfortunate.
"I don't feel it's fair for the sport or the fans to penalise a driver in a situation like this."