Spa European F3: Menezes takes shock pole, Ocon tops other grid
| | |
| --- | --- |
| By Marcus Simmons | Friday, June 20th 2014, 16:22 GMT |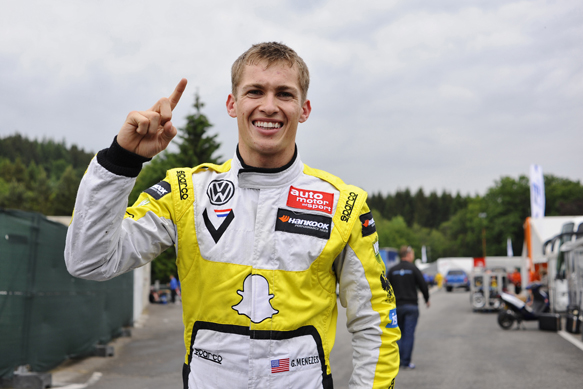 Gustavo Menezes claimed a shock pole position for the second race of the Formula 3 European Championship weekend at Spa.
The Californian of Brazilian parentage headed Van Amersfoort Racing Dallara-Volkswagen team-mate Max Verstappen on a wet track that caused times to tumble as the session progressed.
Menezes was one of the last drivers across the line after a mid-session pitstop, leaping to the top of the times by 1.1 seconds from Verstappen.
Championship leader Esteban Ocon was one of many to head the order, but caught traffic with a couple of laps remaining and dropped to third in his Prema Powerteam Dallara-Mercedes, just ahead of the Fortec Motorsport car of John Bryant-Meisner.
But on second-best laps, which decide the grid for race three, Ocon has claimed his second pole of the weekend, with Bryant-Meisner joining him on the front row in by far his best European F3 qualifying performance.
Meanwhile, the Van Amersfoort pair of Menezes and Verstappen will start sixth and fifth respectively for race three.
Felix Serralles took fifth and third spots in his Team West-Tec entry, while Alexander Toril continued his good weekend to take sixth for race two in his NBE-engined T-Sport Dallara, but is only 23rd for the finale.
Felipe Guimaraes tried slick tyres after an early session stoppage, caused by Mitch Gilbert crashing at Eau Rouge, but came straight back into the pits for grooved Hankooks. Double R Racing's Brazilian ended up seventh and fourth positions.
Mucke Motorsport pair Lucas Auer and Felix Rosenqvist are eighth and ninth for race two, but only 11th and 10th for race three.
Michele Beretta went much better than usual to take two top-10 places in his EuroInternational car, while Tatiana Calderon and Nicholas Latifi both made the leading 10 for race three.
Apart from Gilbert and Dennis van de Laar, who crashed heavily in free practice, the back of the grid will also unusually feature Tom Blomqvist, who was in the pits for the last couple of laps, Jake Dennis and Antonio Fuoco. The Italian never got out of the pitlane after the red flag.
Race two qualifying:

Pos  Driver               Team/Car                        Time       Gap
 1.  Gustavo Menezes      Van Amersfoort Dallara-VW       2m25.458s
 2.  Max Verstappen       Van Amersfoort Dallara-VW       2m26.616s  +1.158s
 3.  Esteban Ocon         Prema Dallara-Merc              2m27.380s  +1.922s
 4.  John Bryant-Meisner  Fortec Dallara-Merc             2m27.647s  +2.189s
 5.  Felix Serralles      West-Tec Dallara-Merc           2m27.767s  +2.309s
 6.  Alexander Toril      T-Sport Dallara-NBE             2m28.456s  +2.998s
 7.  Felipe Guimaraes     Double R Dallara-Merc           2m28.901s  +3.443s
 8.  Lucas Auer           Mucke Dallara-Merc              2m29.082s  +3.624s
 9.  Felix Rosenqvist     Mucke Dallara-Merc              2m29.215s  +3.757s
10.  Michele Beretta      Eurointernational Dallara-Merc  2m29.447s  +3.989s
11.  Tatiana Calderon     Jo Zeller Dallara-Merc          2m29.466s  +4.008s
12.  Jules Szymkowiak     Van Amersfoort Dallara-VW       2m29.754s  +4.296s
13.  Nicholas Latifi      Prema Dallara-Merc              2m29.932s  +4.474s
14.  Hector Hurst         West-Tec Dallara-Merc           2m30.342s  +4.884s
15.  Jordan King          Carlin Dallara-VW               2m30.517s  +5.059s
16.  Santino Ferrucci     Eurointernational Dallara-Merc  2m30.709s  +5.251s
17.  Spike Goddard        T-Sport Dallara-NBE             2m31.030s  +5.572s
18.  Roy Nissany          Mucke Dallara-Merc              2m31.206s  +5.748s
19.  Antonio Giovinazzi   Carlin Dallara-VW               2m31.494s  +6.036s
20.  Sean Gelael          Carlin Dallara-VW               2m31.751s  +6.293s
21.  Sandro Zeller        Jo Zeller Dallara-Merc          2m32.005s  +6.547s
22.  Jake Dennis          Carlin Dallara-VW               2m32.333s  +6.875s
23.  Tom Blomqvist        Carlin Dallara-VW               2m32.699s  +7.241s
24.  Antonio Fuoco        Prema Dallara-Merc
25.  Mitchell Gilbert     Fortec Dallara-Merc

Race three qualifying:

Pos  Driver               Team/Car                        Time       Gap
 1.  Esteban Ocon         Prema Dallara-Merc              2m27.897s
 2.  John Bryant-Meisner  Fortec Dallara-Merc             2m28.320s  +0.423s
 3.  Felix Serralles      West-Tec Dallara-Merc           2m28.404s  +0.507s
 4.  Felipe Guimaraes     Double R Dallara-Merc           2m29.038s  +1.141s
 5.  Max Verstappen       Van Amersfoort Dallara-VW       2m29.562s  +1.665s
 6.  Gustavo Menezes      Van Amersfoort Dallara-VW       2m29.710s  +1.813s
 7.  Tatiana Calderón     Jo Zeller Dallara-Merc          2m30.495s  +2.598s
 8.  Michele Beretta      Eurointernational Dallara-Merc  2m30.827s  +2.930s
 9.  Nicholas Latifi      Prema Dallara-Merc              2m30.978s  +3.081s
10.  Felix Rosenqvist     Mucke Dallara-Merc              2m31.026s  +3.129s
11.  Lucas Auer           Mucke Dallara-Merc              2m31.033s  +3.136s
12.  Jules Szymkowiak     Van Amersfoort Dallara-VW       2m31.047s  +3.150s
13.  Hector Hurst         West-Tec Dallara-Merc           2m31.236s  +3.339s
14.  Spike Goddard        T-Sport Dallara-NBE             2m31.655s  +3.758s
15.  Jordan King          Carlin Dallara-VW               2m31.986s  +4.089s
16.  Roy Nissany          Mucke Dallara-Merc              2m32.586s  +4.689s
17.  Jake Dennis          Carlin Dallara-VW               2m32.785s  +4.888s
18.  Tom Blomqvist        Carlin Dallara-VW               2m32.861s  +4.964s
19.  Antonio Giovinazzi   Carlin Dallara-VW               2m33.396s  +5.499s
20.  Sandro Zeller        Jo Zeller Dallara-Merc          2m33.540s  +5.643s
21.  Santino Ferrucci     Eurointernational Dallara-Merc  2m33.579s  +5.682s
22.  Sean Gelael          Carlin Dallara-VW               2m34.856s  +6.959s
23.  Alexander Toril      T-Sport Dallara-NBE             2m34.981s  +7.084s
24.  Antonio Fuoco        Prema Dallara-Merc
25.  Mitchell Gilbert     Fortec Dallara-Merc