Spa European F3: Ocon swipes pole from Verstappen
| | |
| --- | --- |
| By Marcus Simmons | Friday, June 20th 2014, 12:48 GMT |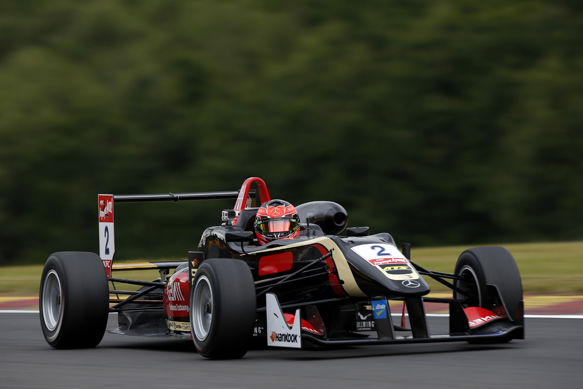 Formula 3 European Championship leader Esteban Ocon edged Max Verstappen for pole position for the first of this weekend's races at Spa by just 0.061 seconds.
Free-practice pacesetter Verstappen, who had never driven the Belgian circuit in the dry before this morning, was top for most of the session before Ocon popped in the pole lap with five minutes remaining.
It was a good session for Prema Powerteam - as well as its Lotus junior Ocon, the team's Ferrari protege Antonio Fuoco continued his good form by moving his Dallara-Mercedes into third place in the closing minutes.
And it was also a strong performance from Van Amersfoort Racing - along with Verstappen, the Volkswagen-powered team got its American racer Gustavo Menezes into fifth place, his best performance yet.
Sneaking in among these frontrunners was Lucas Auer, who bounced back from gearbox problems that forced him to sit out almost the entire first free practice session to take fourth place on the grid in his Mucke Motorsport Dallara-Mercedes.
Tom Blomqvist languished a long way down the order for most of the session, but the Jagonya Ayam with Carlin man thrust himself up to sixth at the end, just pipping Felix Rosenqvist's Mucke machine and the second Carlin runner, Jake Dennis.
Felix Serralles, the polesitter here in 2012 on the European championship's last visit to the Ardennes, took ninth place with Team West-Tec, while the NBE-engined T-Sport car of Alexander Toril rounded out the top 10.
A shock slowest of all was Jordan King, who will start 25th after a puncture stranded him out on the track in the closing stages.
King will start ahead of Dennis van de Laar: the Dutchman is sitting out both qualifying sessions after his tub was damaged in a free practice crash. He spun at Pouhon and Spike Goddard was unable to avoid him.
Neither driver was injured, and the Prema team will decide whether it can repair van de Laar's car for this weekend's races.
Pos Driver               Team/Car                           Time        Gap 
 1. Esteban Ocon         Prema Dallara-Merc                 2m10.049s
 2. Max Verstappen       Van Amersfoort Dallara-VW          2m10.110s  +0.061s
 3. Antonio Fuoco        Prema Dallara-Merc                 2m10.225s  +0.176s
 4. Lucas Auer           Mucke Dallara-Merc                 2m10.340s  +0.291s
 5. Gustavo Menezes      Van Amersfoort Dallara-VW          2m10.572s  +0.523s
 6. Tom Blomqvist        Carlin Dallara-VW                  2m10.601s  +0.552s
 7. Felix Rosenqvist     Mucke Dallara-Merc                 2m10.625s  +0.576s
 8. Jake Dennis          Carlin Dallara-VW                  2m10.659s  +0.610s
 9. Felix Serralles      West-Tec Dallara-Merc              2m10.834s  +0.785s
10. Alexander Toril      T-Sport Dallara-NBE                2m10.933s  +0.884s
11. Nicholas Latifi      Prema Dallara-Merc                 2m10.976s  +0.927s
12. Jules Szymkowiak     Van Amersfoort Dallara-VW          2m10.983s  +0.934s
13. Antonio Giovinazzi   Carlin Dallara-VW                  2m11.123s  +1.074s
14. Mitchell Gilbert     Fortec Dallara-Merc                2m11.411s  +1.362s
15. Felipe Guimaraes     Double R Dallara-Merc              2m11.553s  +1.504s
16. Santino Ferrucci     Eurointernational Dallara-Merc     2m11.576s  +1.527s
17. Spike Goddard        T-Sport Dallara-NBE                2m11.623s  +1.574s
18. Roy Nissany          Mucke Dallara-Merc                 2m11.770s  +1.721s
19. Tatiana Calderon     Jo Zeller Dallara-Merc             2m11.811s  +1.762s
20. Sean Gelael          Carlin Dallara-VW                  2m11.813s  +1.764s
21. John Bryant-Meisner  Fortec Dallara-Merc                2m11.854s  +1.805s
22. Hector Hurst         West-Tec Dallara-Merc              2m12.218s  +2.169s
23. Michele Beretta      Eurointernational Dallara-Merc     2m12.406s  +2.357s
24. Sandro Zeller        Jo Zeller Dallara-Merc             2m12.630s  +2.581s
25. Jordan King          Carlin Dallara-VW                  2m12.753s  +2.704s