Felipe Massa: Sergio Perez risks a Romain Grosjean reputation
| | |
| --- | --- |
| By Jonathan Noble and Pablo Elizalde | Thursday, June 19th 2014, 14:34 GMT |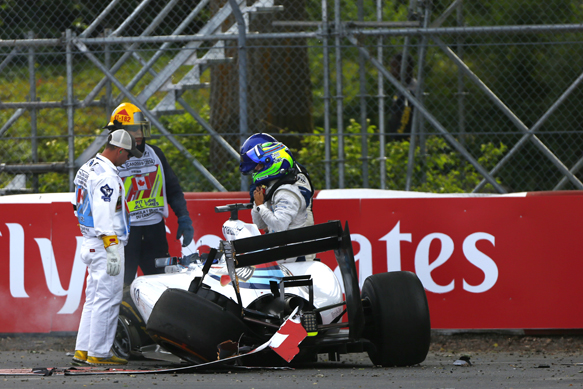 Felipe Massa thinks Sergio Perez needs to learn to accept his mistakes to avoid getting the kind of bad reputation Romain Grosjean had during the 2012 Formula 1 season.
Williams driver Massa and Force India racer Perez were involved in a heavy crash during the Canadian Grand Prix, with the Brazilian labelling the Mexican's driving as dangerous.
The F1 stewards agreed with Massa's view that Perez was at fault and penalised him, although the FIA will review the penalty on Friday morning after Force India claimed to have found new evidence.
Massa's believes Perez's refusal to admit fault could mar his reputation, as happened to Grosjean in 2012, when the Lotus driver was regularly criticised by his peers for collisions, and received a one-race ban after his crash at the start of the Belgian GP.
"The best chance is for him to accept it," said Massa ahead of the Austrian GP. "We saw that another driver had a lot of problems in the past and lost a race as a result of the accident he caused at Spa, but he learned.
"This is something that [Perez] needs to learn. If I made a mistake I would be the first one to say 'it was my mistake and I'm sorry', like I always did when I made a mistake.
"People don't think in the same way, so I'm sorry for him and I hope he learns. Otherwise, he'll pay more penalties in the future.
"I was very disappointed with him in the hospital. I said that it was dangerous and that he needs to learn, but he just turned and left. Anyway..."
Massa said he was ready to sort things out with Perez if the Mexican was willing to talk.
"I'm totally ready - I have no problem with him or with anybody, but I didn't do anything wrong. He did, and it was dangerous, for him as well."
Perez said on Thursday that he was hopeful the new evidence would show he had nothing to apologise for.
"Felipe we know is a good guy, and he has his opinion," said Perez.
"I have my opinion and we just have to sit down but also we will get the opportunity tomorrow with the FIA to review the accident once again as we believe we have enough evidence to prove that I did nothing wrong."