Porsche drivers want Balance of Peformance rethink after Le Mans struggle
| | |
| --- | --- |
| By Scott Mitchell | Wednesday, June 18th 2014, 09:11 GMT |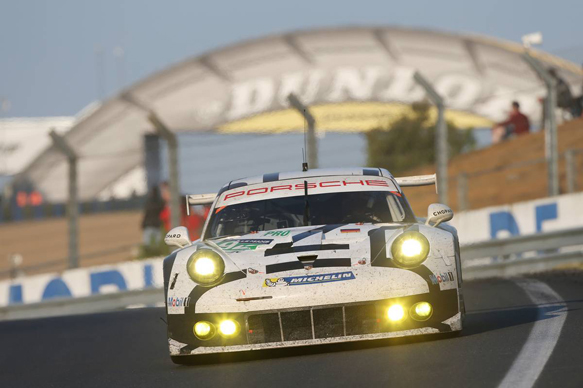 Porsche factory drivers Frederic Makowiecki and Marco Holzer have called for a GTE Balance of Performance re-evaluation despite finishing on the class podium in the Le Mans 24 Hours.
Having won the French endurance race last year, both Porsches struggled for pace compared to the other three GTE Pro manfufacturers Aston Martin, Ferrari and Corvette.
The Manthey-run 911 RSR has carried 25kg of ballast since winning the opening round of the World Endurance Championship at Silverstone, while Aston Martin received two weight breaks in the build up to Le Mans that amounted to a 35kg loss.
Ferrari has a revised aerodynamic kit for this year despite an off-season freeze in aero development, while Corvette - which had only raced its new C7.R in the United States prior to last weekend - was given a series of breaks in comparison to last year.

The story of an old-school Le Mans
Team boss Olaf Manthey had criticised the situation in the build-up to practice and qualifying and his drivers have since called for a re-evaluation from WEC and Le Mans organisers the Automobile Club de l'ouest.
"Maybe they [the ACO] should understand they must be careful not to penalise or advantage one car," said Makowiecki.
"Sometimes if you work well you get penalished and it's not a positive thing. I like the challenge and to battle - if the engineers and driver do a good job they deserve to get a good result."
Holzer said he was happy that he, Makowiecki and third driver Richard Lietz had salvaged a podium – and second-place WEC points with Corvette ineligible – from the weekend but agreed that something needed to be done for future rounds.
"It was a tough race," he added.
"We pressed 120 per cent out of the car [to finish third]. For sure you feel every kg of fuel, I hope we get a little change for the next race."