Le Mans 24 Hours: Audi closing on one-two into final hour
| | |
| --- | --- |
| | Sunday, June 15th 2014, 12:05 GMT |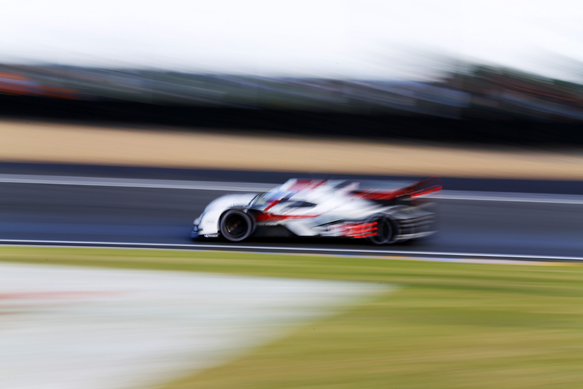 Audi closed in on a one-two finish as the Le Mans 24 Hours neared its conclusion, while both Porsches stopped with technical problems.
After Mark Webber's second-placed 919 Hybrid slowed dramatically at the end of the 22nd hour, the car was wheeled into the garage and the team quickly decided against trying to fix whatever had caused the problem.
That allowed the #1 Audi into second place behind the leading #2 R18, while Anthony Davidson moved Toyota back into a podium position with the #8 TS040.
The second Porsche of Marc Lieb then joined its sister car in the garage, but that was still being worked on at the top of the hour, suggesting it could return to the track to take the finish.
Oliver Turvey, a late stand-in for the #38 Jota Zytek squad after Marc Gene was called up by Audi, leads LMP2, although he will imminently pit to hand the lead to the #46 TDS Ligier of Tristan Gommendy.
LMP2 is set to produce a close finish, with less than half a minute likely to separate the top two after Turvey stops and the Signatech Alpine ORECA of Nelson Panciatici on the lead lap in third ahead of the recovering #35 OAK Ligier of Mark Shulzhitskiy.
The AF Corse Ferrari of Giancarlo Fisichella, Gianmaria Bruni and Toni Vilander is just one hour away from completing a controlled GTE victory.
Fisichella continued his impressive performance over the course of the race to maintain the advantage the #51 458 Italia has held over the field since the 19th hour.
Behind, Antonio Garcia jumped the #73 Corvette C7.R ahead of Frederic Makowiecki after the Frenchman was delayed in the pits.
Garcia had been taking large chunks out of the gap to the Manthey Porsche but an on-track pass was not necessary when mechanics swarmed over the 911 RSR's front end when Makowiecki pitted for new tyres.
Aston Martin survived a scare for the Am class-leading #95 Vantage, which stopped at the pitlane exit just as Kristian Poulsen had taken over from Nicki Thiim.
Poulsen lost a couple of minutes with the delay but remains well clear of the #88 Proton Competition Porsche, with the #61 AF Corse Ferrari third.
POSITIONS AFTER 23 HOURS

Pos Cl       Car       Drivers                              Laps  Gap
 1. LMP1 #2  Audi      Fassler/Lotterer/Treluyer            362  
 2. LMP1 #1  Audi      Di Grassi/Gene/Kristensen            359  +     3 Laps
 3. LMP1 #8  Toyota    Davidson/Lapierre/Buemi              356  +     6 Laps
 4. LMP1 #14 Porsche   Dumas/Jani/Lieb                      347  +    15 Laps
 5. LMP1 #20 Porsche   Bernhard/Webber/Hartley              346  +    16 Laps
 6. LMP1 #12 Rebellion Prost/Heidfeld/Beche                 343  +    19 Laps
 7. LMP2 #38 Zytek     Dolan/Tincknell/Turvey               339  +    23 Laps
 8. LMP2 #46 Ligier    Thiriet/Badey/Gommendy               338  +    24 Laps
 9. LMP2 #36 Alpine    Chatin/Panciatici/Webb               338  +  2m38.140s
10. LMP2 #35 Ligier    Brundle/Mardenborough/Shulzhitskiy   337  +    25 Laps
11. LMP2 #24 Oreca     Rast/Charouz/Capillaire              337  +    57.060s
12. LMP2 #43 Morgan    Klien/Hirsch/Brandela                335  +    27 Laps
13. LMP2 #33 Ligier    Cheng/Tung/Fong                      330  +    32 Laps
14. LMP2 #34 Oreca     Frey/Mailleux/Lancaster              326  +    36 Laps
15. LMP2 #50 Morgan    Ragues/Taylor/Ihara                  324  +    38 Laps
16. GTEP #51 Ferrari   Bruni/Vilander/Fisichella            323  +    39 Laps
17. GTEP #73 Chevrolet Magnussen/Garcia/Taylor              322  +    40 Laps
18. GTEP #92 Porsche   Holzer/Makowiecki/Lietz              322  +  2m00.962s
19. LMP2 #29 Morgan    Schell/Leutwiller/Roussel            321  +    41 Laps
20. GTEA #95 Aston     Poulsen/Heinemeier-Hansson/Thiim     319  +    43 Laps
21. GTEP #74 Chevrolet Gavin/Milner/Westbrook               316  +    46 Laps
22. GTEA #88 Porsche   Ried/Bachler/Al Qubaisi              316  +    52.784s
23. GTEA #61 Ferrari   Perez-Companc/Cioci/Venturi          315  +    46 Laps
24. GTEA #90 Ferrari   Montecalvo/Roda/Ruberti              314  +    47 Laps
25. GTEA #77 Porsche   Dempsey/Foster/Long                  313  +    48 Laps
26. GTEA #98 Aston     Dalla Lana/Lamy/Nygaard              313  +  1m03.952s
27. GTEA #66 Ferrari   Al Faisal/Neiman/Pumpelly            312  +    49 Laps
28. LMP2 #42 Zytek     Kimber-Smith/McMurry/Dyson           312  +  1m02.858s
29. GTEA #70 Ferrari   Nakano/Ehret/Rich                    311  +    50 Laps
30. GTEA #58 Ferrari   Barthez/Pons/Ayari                   310  +    51 Laps
31. GTEA #57 Ferrari   Krohn/Jonsson/Collins                309  +    52 Laps
32. GTEA #76 Porsche   Narac/Armindo/Hallyday               308  +    53 Laps
33. GTEP #97 Aston     Turner/Mucke/Senna                   305  +    56 Laps
34. GTEP #79 Porsche   MacNeil/Curtis/Bleekemolen           303  +    58 Laps
35. GTEA #53 Ferrari   Mowlem/Patterson/Hamilton            303  +    51.472s
36. GTEA #67 Porsche   Maris/Merlin/Helary                  301  +    60 Laps
37. LMP2 #27 Oreca     Zlobin/Salo/Ladygin                  295  +    66 Laps
38. GTEP #91 Porsche   Pilet/Bergmeister/Tandy              293  +    68 Laps
39. GTEA #62 Ferrari   Mallegol/Bachelier/Blank             280  +    81 Laps
40. LMP1 #7  Toyota    Wurz/Sarrazin/Nakajima               219  Retired
41. GTEA #72 Ferrari   Bertolini/Shaitar/Basov              196  Retired
42. GTEA #75 Porsche   Perrodo/Collard/Palttala             194  Retired
43. GTEP #52 Ferrari   Griffin/Parente/Leo                  140  Retired
44. LMP2 #26 Morgan    Rusinov/Pla/Canal                    120  Retired
45. GTEA #60 Ferrari   Mann/Case/Giammaria                  115  Retired
46. LMP2 #47 Oreca     Howson/Bradley/Imperatori            87  Retired
47. LMP1 #13 Rebellion Kraihamer/Belicchi/Leimer            73  Retired
48. LMP2 #48 Oreca     Berthon/Gonzalez/Chandhok            73  Retired
49. LMP2 #41 Zytek     Munemman/Latif/Winslow               31  Retired
50. GTEP #71 Ferrari   Rigon/Kaffer/Beretta                 28  Retired
51. LMP1 #3  Audi      Albuquerque/Bonanomi/Jarvis          25  Retired
52. GTEA #81 Ferrari   Wyatt/Rugolo/Bird                    22  Retired
53. LMP2 #37 Oreca     Ladygin/Minassian/Mediani            9   Retired
54. CDNT #0  Nissan    Ordonez/Reip/Motoyama                5   Retired