Le Mans 24 Hours: Porsche back into lead after trouble for Audi
| | |
| --- | --- |
| | Sunday, June 15th 2014, 10:04 GMT |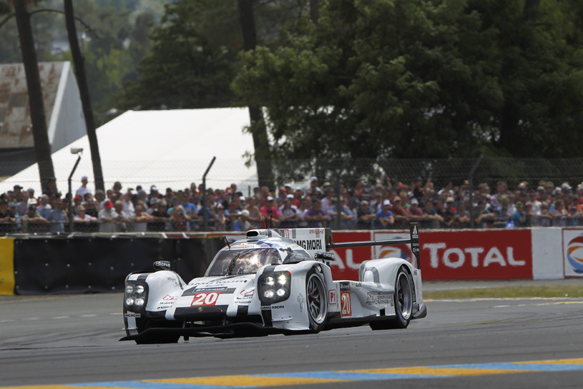 Porsche has taken the lead in the Le Mans 24 Hours after the leading #1 Audi was forced to pit for a turbo change.
The #1 Audi had moved into first place earlier on Sunday morning when its sister car had suffered a similar problem.
But after briefly stopping on track and performing a reset of an electrical system in the hope of curing the problem, Kristensen completed one more lap before heading to the pits.
He rejoined still in the lead but the car was slow, forcing him to return to the garage for the turbo to be changed, costing over 17 minutes.
This handed the lead to the #20 Porsche of Timo Bernhard, sharing with Brendon Hartley and Mark Webber.
But while the Porsche is in a strong position, the #2 Audi of Andre Lotterer has moved up to second and is closing in, ending the hour just over a minute behind.
The #8 Toyota, which was knocked out of contention by an early accident in the rain, runs a distant fourth and is the Japanese manufacturer's sole representative after the #7 car that led for much of the first half of the race retired with an electrical problem.
The #35 G-Drive-branded OAK Ligier of Alex Brundle has retaken the lead in LMP2 after a puncture cost the #46 TDS ligier time at the end of the previous hour.
As well as the puncture, the #46 Ligier had to have some damaged suspension replaced, costing it almost six minutes in total and relegating it to third in LMP2 behind the #38 Jota Zytek of Harry Tincknell.
The #51 AF Corse Ferrari continues to lead GTE Pro comfortably in the hands of Toni Vilander, two laps clear of the #92 Manthey Porsche of Richard Lietz.
In GTE Am, Nicki Thiim leads in the #95 Aston Martin.
POSITIONS AFTER 21 HOURS

Pos Cl       Car       Drivers                              Laps  Gap
 1. LMP1 #20 Porsche   Bernhard/Webber/Hartley              329  
 2. LMP1 #2  Audi      Fassler/Lotterer/Treluyer            329  +  1m02.759s
 3. LMP1 #1  Audi      Di Grassi/Gene/Kristensen            325  +     4 Laps
 4. LMP1 #8  Toyota    Davidson/Lapierre/Buemi              322  +     7 Laps
 5. LMP1 #14 Porsche   Dumas/Jani/Lieb                      320  +     9 Laps
 6. LMP1 #12 Rebellion Prost/Heidfeld/Beche                 310  +    19 Laps
 7. LMP2 #35 Ligier    Brundle/Mardenborough/Shulzhitskiy   308  +    21 Laps
 8. LMP2 #38 Zytek     Dolan/Tincknell/Turvey               307  +    22 Laps
 9. LMP2 #46 Ligier    Thiriet/Badey/Gommendy               307  +    43.564s
10. LMP2 #36 Alpine    Chatin/Panciatici/Webb               306  +    23 Laps
11. LMP2 #24 Oreca     Rast/Charouz/Capillaire              306  +  1m27.072s
12. LMP2 #43 Morgan    Klien/Hirsch/Brandela                304  +    25 Laps
13. LMP2 #34 Oreca     Frey/Mailleux/Lancaster              304  +  1m17.930s
14. LMP2 #33 Ligier    Cheng/Tung/Fong                      300  +    29 Laps
15. GTEP #51 Ferrari   Bruni/Vilander/Fisichella            294  +    35 Laps
16. LMP2 #50 Morgan    Ragues/Taylor/Ihara                  294  +  2m38.063s
17. GTEP #92 Porsche   Holzer/Makowiecki/Lietz              293  +    36 Laps
18. GTEP #73 Chevrolet Magnussen/Garcia/Taylor              292  +    37 Laps
19. LMP2 #29 Morgan    Schell/Leutwiller/Roussel            291  +    38 Laps
20. GTEA #95 Aston     Poulsen/Heinemeier-Hansson/Thiim     290  +    39 Laps
21. GTEP #97 Aston     Turner/Mucke/Senna                   289  +    40 Laps
22. LMP2 #42 Zytek     Kimber-Smith/McMurry/Dyson           287  +    42 Laps
23. GTEA #88 Porsche   Ried/Bachler/Al Qubaisi              287  +  41m15.543s
24. GTEP #74 Chevrolet Gavin/Milner/Westbrook               287  +  41m57.048s
25. GTEA #61 Ferrari   Perez-Companc/Cioci/Venturi          286  +    43 Laps
26. GTEA #90 Ferrari   Montecalvo/Roda/Ruberti              285  +    44 Laps
27. GTEA #57 Ferrari   Krohn/Jonsson/Collins                285  +    19.199s
28. GTEA #77 Porsche   Dempsey/Foster/Long                  284  +    45 Laps
29. GTEA #66 Ferrari   Al Faisal/Neiman/Pumpelly            283  +    46 Laps
30. GTEA #98 Aston     Dalla Lana/Lamy/Nygaard              283  +     3.766s
31. GTEA #70 Ferrari   Nakano/Ehret/Rich                    282  +    47 Laps
32. GTEA #58 Ferrari   Barthez/Pons/Ayari                   282  +    18.054s
33. LMP2 #27 Oreca     Zlobin/Salo/Ladygin                  281  +    48 Laps
34. GTEA #76 Porsche   Narac/Armindo/Hallyday               279  +    50 Laps
35. GTEP #79 Porsche   MacNeil/Curtis/Bleekemolen           275  +    54 Laps
36. GTEA #53 Ferrari   Mowlem/Patterson/Hamilton            274  +    55 Laps
37. GTEA #67 Porsche   Maris/Merlin/Helary                  274  +  2m26.541s
38. GTEP #91 Porsche   Pilet/Bergmeister/Tandy              264  +    65 Laps
39. GTEA #62 Ferrari   Mallegol/Bachelier/Blank             253  +    76 Laps
40. LMP1 #7  Toyota    Wurz/Sarrazin/Nakajima               219  Retired
41. GTEA #72 Ferrari   Bertolini/Shaitar/Basov              196  Retired
42. GTEA #75 Porsche   Perrodo/Collard/Palttala             194  Retired
43. GTEP #52 Ferrari   Griffin/Parente/Leo                  140  Retired
44. LMP2 #26 Morgan    Rusinov/Pla/Canal                    120  Retired
45. GTEA #60 Ferrari   Mann/Case/Giammaria                  115  Retired
46. LMP2 #47 Oreca     Howson/Bradley/Imperatori            87  Retired
47. LMP1 #13 Rebellion Kraihamer/Belicchi/Leimer            73  Retired
48. LMP2 #48 Oreca     Berthon/Gonzalez/Chandhok            73  Retired
49. LMP2 #41 Zytek     Munemman/Latif/Winslow               31  Retired
50. GTEP #71 Ferrari   Rigon/Kaffer/Beretta                 28  Retired
51. LMP1 #3  Audi      Albuquerque/Bonanomi/Jarvis          25  Retired
52. GTEA #81 Ferrari   Wyatt/Rugolo/Bird                    22  Retired
53. LMP2 #37 Oreca     Ladygin/Minassian/Mediani            9   Retired
54. CDNT #0  Nissan    Ordonez/Reip/Motoyama                5   Retired