Le Mans 24 Hours: Tom Kristensen maintains Audi's lead in hour 20
| | |
| --- | --- |
| | Sunday, June 15th 2014, 09:10 GMT |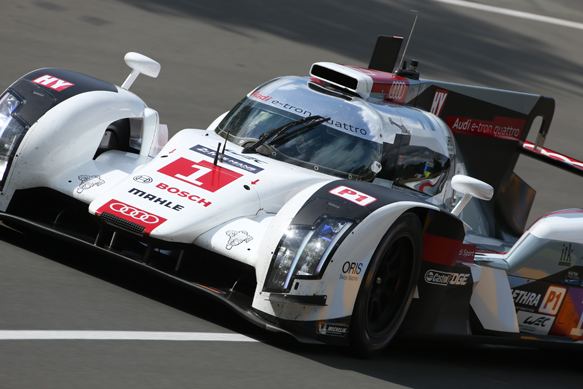 Tom Kristensen leads the Le Mans 24 Hours with four hours remaining as he chases a record-setting 10th victory.
The #1 Audi that Kristensen shares with Lucas di Grassi and Marc Gene moved into the lead when the sister #2 machine had its turbo changed earlier this morning.
It now has an advantage of more than a lap over the #20 Porsche of Timo Bernhard, with Mark Webber having completed a quadruple stint in that car.
The #2 Audi remains on track in third place, although the #3 Audi crashed out early on in an incident that also ruined the victory chances of the #8 Toyota that currently runs a distant fourth.
The #46 TDS Ligier, which started on pole, holds first in LMP2 after the G-Drive-backed OAK Racing Ligier that led for so long had to pit with a rear brake problem in the previous hour.
But at the end of the hour, with Tristan Gommendy, the car suffered a puncture and crawled to the pits, which will elevate OAK once again.
Mark Shulzhitskiy is second in that car, currently a lap down on the leader, with Simon Dolan moving the #38 Zytek up to third in class.
Toni Vilander now has a lead of over a lap in GTE Pro in the #51 AF Corse Ferrari after the #97 Aston Martin that it had been fighting with dropped back in the last hour.
The #95 Aston Martin still leads GTE Pro in the hands of Nicki Thiim, well ahead of the #88 Porsche of Christian Ried.
POSITIONS AFTER 20 HOURS

Pos Cl       Car       Drivers                              Laps  Gap
 1. LMP1 #1  Audi      Di Grassi/Gene/Kristensen            313  
 2. LMP1 #20 Porsche   Bernhard/Webber/Hartley              312  +      1 Lap
 3. LMP1 #2  Audi      Fassler/Lotterer/Treluyer            311  +     2 Laps
 4. LMP1 #8  Toyota    Davidson/Lapierre/Buemi              305  +     8 Laps
 5. LMP1 #14 Porsche   Dumas/Jani/Lieb                      303  +    10 Laps
 6. LMP1 #12 Rebellion Prost/Heidfeld/Beche                 294  +    19 Laps
 7. LMP2 #46 Ligier    Thiriet/Badey/Gommendy               293  +    20 Laps
 8. LMP2 #35 Ligier    Brundle/Mardenborough/Shulzhitskiy   292  +    21 Laps
 9. LMP2 #38 Zytek     Dolan/Tincknell/Turvey               291  +    22 Laps
10. LMP2 #36 Alpine    Chatin/Panciatici/Webb               290  +    23 Laps
11. LMP2 #24 Oreca     Rast/Charouz/Capillaire              290  +  1m47.102s
12. LMP2 #34 Oreca     Frey/Mailleux/Lancaster              288  +    25 Laps
13. LMP2 #43 Morgan    Klien/Hirsch/Brandela                288  +    11.256s
14. LMP2 #33 Ligier    Cheng/Tung/Fong                      284  +    29 Laps
15. LMP2 #42 Zytek     Kimber-Smith/McMurry/Dyson           283  +    30 Laps
16. GTEP #51 Ferrari   Bruni/Vilander/Fisichella            279  +    34 Laps
17. LMP2 #50 Morgan    Ragues/Taylor/Ihara                  279  +  3m12.599s
18. GTEP #92 Porsche   Holzer/Makowiecki/Lietz              277  +    36 Laps
19. GTEP #73 Chevrolet Magnussen/Garcia/Taylor              277  +  1m14.431s
20. LMP2 #29 Morgan    Schell/Leutwiller/Roussel            276  +    37 Laps
21. GTEA #95 Aston     Poulsen/Heinemeier-Hansson/Thiim     275  +    38 Laps
22. LMP2 #27 Oreca     Zlobin/Salo/Ladygin                  274  +    39 Laps
23. GTEP #97 Aston     Turner/Mucke/Senna                   274  +  11m10.948s
24. GTEA #88 Porsche   Ried/Bachler/Al Qubaisi              273  +    40 Laps
25. GTEP #74 Chevrolet Gavin/Milner/Westbrook               272  +    41 Laps
26. GTEA #61 Ferrari   Perez-Companc/Cioci/Venturi          271  +    42 Laps
27. GTEA #90 Ferrari   Montecalvo/Roda/Ruberti              271  +  4m23.525s
28. GTEA #57 Ferrari   Krohn/Jonsson/Collins                270  +    43 Laps
29. GTEA #66 Ferrari   Al Faisal/Neiman/Pumpelly            269  +    44 Laps
30. GTEA #77 Porsche   Dempsey/Foster/Long                  269  +    18.356s
31. GTEA #98 Aston     Dalla Lana/Lamy/Nygaard              268  +    45 Laps
32. GTEA #70 Ferrari   Nakano/Ehret/Rich                    268  +  1m36.518s
33. GTEA #58 Ferrari   Barthez/Pons/Ayari                   268  +  3m18.476s
34. GTEA #76 Porsche   Narac/Armindo/Hallyday               265  +    48 Laps
35. GTEA #67 Porsche   Maris/Merlin/Helary                  261  +    52 Laps
36. GTEP #79 Porsche   MacNeil/Curtis/Bleekemolen           261  +  1m30.991s
37. GTEA #53 Ferrari   Mowlem/Patterson/Hamilton            260  +    53 Laps
38. GTEP #91 Porsche   Pilet/Bergmeister/Tandy              249  +    64 Laps
39. GTEA #62 Ferrari   Mallegol/Bachelier/Blank             240  +    73 Laps
40. LMP1 #7  Toyota    Wurz/Sarrazin/Nakajima               219  Retired
41. GTEA #72 Ferrari   Bertolini/Shaitar/Basov              196  Retired
42. GTEA #75 Porsche   Perrodo/Collard/Palttala             194  Retired
43. GTEP #52 Ferrari   Griffin/Parente/Leo                  140  Retired
44. LMP2 #26 Morgan    Rusinov/Pla/Canal                    120  Retired
45. GTEA #60 Ferrari   Mann/Case/Giammaria                  115  Retired
46. LMP2 #47 Oreca     Howson/Bradley/Imperatori            87  Retired
47. LMP1 #13 Rebellion Kraihamer/Belicchi/Leimer            73  Retired
48. LMP2 #48 Oreca     Berthon/Gonzalez/Chandhok            73  Retired
49. LMP2 #41 Zytek     Munemman/Latif/Winslow               31  Retired
50. GTEP #71 Ferrari   Rigon/Kaffer/Beretta                 28  Retired
51. LMP1 #3  Audi      Albuquerque/Bonanomi/Jarvis          25  Retired
52. GTEA #81 Ferrari   Wyatt/Rugolo/Bird                    22  Retired
53. LMP2 #37 Oreca     Ladygin/Minassian/Mediani            9   Retired
54. CDNT #0  Nissan    Ordonez/Reip/Motoyama                5   Retired