Le Mans 24 Hours: #2 Audi in trouble as sister car closes in
| | |
| --- | --- |
| | Sunday, June 15th 2014, 05:07 GMT |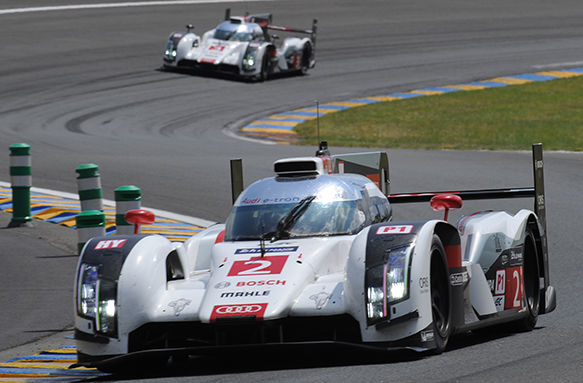 The leading #2 Audi R18 e-tron quattro was in its garage at three-quarters distance and on the brink of losing the lead to the sister machine of Marc Gene.
Marcel Fassler, who had a lead of more than two laps, was pushed into the garage after taking on fuel.
The car's front and rear bodywork was removed and then replace and pushed back onto the pit apron, before failing to restart and being taken back into the garage.
The problem was with the turbo, which was being changed at the the top of the hour.
The #1 R18 moved into second place in Lucas di Grassi when the #20 Porsche swapped from Brendon Hartley to Mark Webber and took on tyres.
Di Grassi was able to pull away from Webber despite the Porsche driver's fresh rubber and built up enough of a gap for Marc Gene to hang onto second when he took over the #2 Audi.
In LMP2, the G-Drive-backed OAK Racing Ligier continues to dominate the class, with Brundle leading from the #36 Alpine Signatech ORECA.
The #46 TDS Ligier, driven by Badey, is third with the #34 Race Performance ORECA of Frey.
Toni Vilander took over from Gianmaria Bruni in the GTE Pro-leading Ferrari 458 Italia and enjoyed a clear lead from the #97 Aston in which Stefan Mucke set a lap quicker than the car's qualifying mark.
Kristian Poulsen continues to lead the GTE Am class in the #95 Aston Martin, chased by the #88 Proton Porsche.
POSITIONS AFTER 16 HOURS

Pos Cl       Car       Drivers                             Laps  Gap
 1. LMP1 #2  Audi      Fassler/Lotterer/Treluyer           252  
 2. LMP1 #1  Audi      Di Grassi/Gene/Kristensen           249  +     3 Laps
 3. LMP1 #20 Porsche   Bernhard/Webber/Hartley             249  +    34.711s
 4. LMP1 #8  Toyota    Davidson/Lapierre/Buemi             241  +    11 Laps
 5. LMP1 #14 Porsche   Dumas/Jani/Lieb                     240  +    12 Laps
 6. LMP2 #35 Ligier    Brundle/Mardenborough/Shulzhitskiy  235  +    17 Laps
 7. LMP2 #36 Alpine    Chatin/Panciatici/Webb              235  +  2m12.514s
 8. LMP2 #46 Ligier    Thiriet/Badey/Gommendy              234  +    18 Laps
 9. LMP2 #34 Oreca     Frey/Mailleux/Lancaster             233  +    19 Laps
10. LMP1 #12 Rebellion Prost/Heidfeld/Beche                233  +  1m47.855s
11. LMP2 #38 Zytek     Dolan/Tincknell/Turvey              232  +    20 Laps
12. LMP2 #24 Oreca     Rast/Charouz/Capillaire             231  +    21 Laps
13. LMP2 #43 Morgan    Klien/Hirsch/Brandela               230  +    22 Laps
14. LMP2 #33 Ligier    Cheng/Tung/Fong                     227  +    25 Laps
15. LMP2 #42 Zytek     Kimber-Smith/McMurry/Dyson          224  +    28 Laps
16. GTEP #51 Ferrari   Bruni/Vilander/Fisichella           223  +    29 Laps
17. GTEP #97 Aston     Turner/Mucke/Senna                  223  +  1m19.949s
18. GTEP #92 Porsche   Holzer/Makowiecki/Lietz             222  +    30 Laps
19. LMP2 #29 Morgan    Schell/Leutwiller/Roussel           221  +    31 Laps
20. GTEP #73 Chevrolet Magnussen/Garcia/Taylor             221  +  2m36.050s
21. LMP2 #50 Morgan    Ragues/Taylor/Ihara                 220  +    32 Laps
22. LMP2 #27 Oreca     Zlobin/Salo/Ladygin                 220  +  1m48.435s
23. GTEP #74 Chevrolet Gavin/Milner/Westbrook              220  +  2m31.381s
24. GTEA #95 Aston     Poulsen/Heinemeier-Hansson/Thiim    220  +  2m48.755s
25. GTEA #88 Porsche   Ried/Bachler/Al Qubaisi             217  +    35 Laps
26. GTEA #61 Ferrari   Perez-Companc/Cioci/Venturi         216  +    36 Laps
27. GTEA #90 Ferrari   Montecalvo/Roda/Ruberti             216  +  1m09.806s
28. GTEA #57 Ferrari   Krohn/Jonsson/Collins               216  +  2m07.885s
29. GTEA #77 Porsche   Dempsey/Foster/Long                 215  +    37 Laps
30. GTEA #70 Ferrari   Nakano/Ehret/Rich                   215  +  1m57.156s
31. GTEA #58 Ferrari   Barthez/Pons/Ayari                  214  +    38 Laps
32. GTEA #66 Ferrari   Al Faisal/Neiman/Pumpelly           213  +    39 Laps
33. GTEA #76 Porsche   Narac/Armindo/Hallyday              213  +  3m18.606s
34. GTEA #98 Aston     Dalla Lana/Lamy/Nygaard             212  +    40 Laps
35. GTEA #67 Porsche   Maris/Merlin/Helary                 210  +    42 Laps
36. GTEP #79 Porsche   MacNeil/Curtis/Bleekemolen          208  +    44 Laps
37. GTEA #53 Ferrari   Mowlem/Patterson/Hamilton           205  +    47 Laps
38. GTEA #72 Ferrari   Bertolini/Shaitar/Basov             196  +    56 Laps
39. GTEP #91 Porsche   Pilet/Bergmeister/Tandy             193  +    59 Laps
40. GTEA #62 Ferrari   Mallegol/Bachelier/Blank            188  +    64 Laps
41. GTEA #75 Porsche   Perrodo/Collard/Palttala            180  +    72 Laps
42. GTEP #52 Ferrari   Griffin/Parente/Leo                 140  +   112 Laps
43. LMP1 #7  Toyota    Wurz/Sarrazin/Nakajima              219  Retired
44. LMP2 #26 Morgan    Rusinov/Pla/Canal                   120  Retired
45. GTEA #60 Ferrari   Mann/Case/Giammaria                 115  Retired
46. LMP2 #47 Oreca     Howson/Bradley/Imperatori           87   Retired
47. LMP1 #13 Rebellion Kraihamer/Belicchi/Leimer           73   Retired
48. LMP2 #48 Oreca     Berthon/Gonzalez/Chandhok           73   Retired
49. LMP2 #41 Zytek     Munemman/Latif/Winslow              31   Retired
50. GTEP #71 Ferrari   Rigon/Kaffer/Beretta                28   Retired
51. LMP1 #3  Audi      Albuquerque/Bonanomi/Jarvis         25   Retired
52. GTEA #81 Ferrari   Wyatt/Rugolo/Bird                   22   Retired
53. LMP2 #37 Oreca     Ladygin/Minassian/Mediani           9    Retired
54. CDNT #0  Nissan    Ordonez/Reip/Motoyama               5    Retired