Le Mans 24 Hours: #2 Audi has big lead as #7 Toyota retires
| | |
| --- | --- |
| | Sunday, June 15th 2014, 04:04 GMT |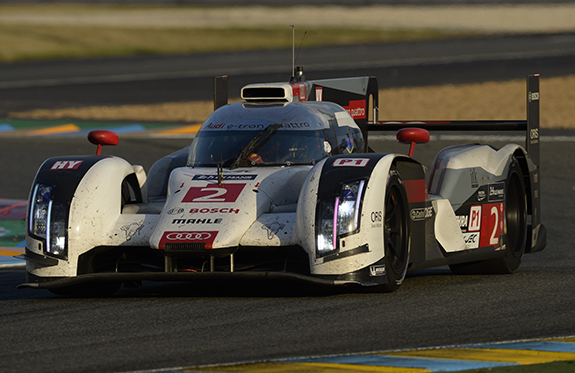 Audi held a commanding lead of the Le Mans 24 Hours during the 15th hour of the race, while Toyota officially retired the former race-leading #7 car.
After an electrical problem forced Kazuki Nakajima to stop on track during the previous hour, the #2 Audi had a trouble-free first stint in the lead of the race, comfortably ahead of the #20 Porsche.
The battle for second appeared to be the most likely source of excitement towards the front of the race, as the #1 Audi of Lucas di Grassi started to hunt down Brendon Hartley's 919 Hybrid.
While Toyota pulled down the garage shutters on its #7 garage, the #8 TS040 HYBRID continued to battle the #14 Porsche for what has become fourth place.
However, that fight appeared to come to an end at the close of the hour as Lieb went off at Indianapolis and was stuck in the gravel.
There was still no change at the front of LMP2 as the OAK-run #35 Ligier enjoyed a comfortable lead in the hands of Jann Mardenborough, with the TDS-run #45 Ligier and #36 Signatech ORECA giving chase and fighting for second.
Ferrari moved into GTE lead as Aston Martin lost time with a brake change and Corvette suffered a pair of substantial setbacks.
Darren Turner looked to have put Aston in control but, with Stefan Mucke having taken over, a pre-planned brake change handed Gianmaria Bruni's AF Corse-run 458 Italia the lead.
Despite a rapid turnaround from AMR Mucke was helpless as Bruni claimed a lead in excess of two minutes, but at least the Vantage squad is still in the lead running.
The same probably cannot be said for the #74 Corvette. Having spent much of the first half of the race in the lead and the rest there or thereabouts, the 14th hour was a nightmare for its lead C7.R.
First, it had to pit to replace the right-side door after it was deemed "insufficiently lit", and then spent several minutes in its pitbox, in the air with mechanics fettling the engine area for some time.
It got back on track at the end of the hour, but fell to sixth overall and fifth in class.
The Corvette is one place behind Nicki Thiim's Am-leading #95 Aston Martin, which has led without disruption since the third. Drama for the #61 AF Corse dropped it out of second in the class, promoting the #88 Proton Competitio Porsche.
POSITIONS AFTER 15 HOURS

Pos Cl       Car       Drivers                             Laps  Gap
 1. LMP1 #2  Audi      Fassler/Lotterer/Treluyer           236  
 2. LMP1 #20 Porsche   Bernhard/Webber/Hartley             233  +     3 Laps
 3. LMP1 #1  Audi      Di Grassi/Gene/Kristensen           233  +    19.251s
 4. LMP1 #8  Toyota    Davidson/Lapierre/Buemi             225  +    11 Laps
 5. LMP1 #14 Porsche   Dumas/Jani/Lieb                     224  +    12 Laps
 6. LMP2 #35 Ligier    Brundle/Mardenborough/Shulzhitskiy  220  +    16 Laps
 7. LMP2 #46 Ligier    Thiriet/Badey/Gommendy              219  +    17 Laps
 8. LMP2 #36 Alpine    Chatin/Panciatici/Webb              219  +    22.054s
 9. LMP2 #34 Oreca     Frey/Mailleux/Lancaster             218  +    18 Laps
10. LMP1 #12 Rebellion Prost/Heidfeld/Beche                217  +    19 Laps
11. LMP2 #38 Zytek     Dolan/Tincknell/Turvey              217  +  1m17.850s
12. LMP2 #24 Oreca     Rast/Charouz/Capillaire             216  +    20 Laps
13. LMP2 #43 Morgan    Klien/Hirsch/Brandela               215  +    21 Laps
14. LMP2 #33 Ligier    Cheng/Tung/Fong                     211  +    25 Laps
15. LMP2 #42 Zytek     Kimber-Smith/McMurry/Dyson          209  +    27 Laps
16. GTEP #51 Ferrari   Bruni/Vilander/Fisichella           208  +    28 Laps
17. GTEP #97 Aston     Turner/Mucke/Senna                  208  +  1m56.602s
18. GTEP #92 Porsche   Holzer/Makowiecki/Lietz             207  +    29 Laps
19. LMP2 #29 Morgan    Schell/Leutwiller/Roussel           207  +    49.303s
20. GTEP #73 Chevrolet Magnussen/Garcia/Taylor             206  +    30 Laps
21. GTEA #95 Aston     Poulsen/Heinemeier-Hansson/Thiim    206  +     6.387s
22. LMP2 #50 Morgan    Ragues/Taylor/Ihara                 206  +     8.310s
23. GTEP #74 Chevrolet Gavin/Milner/Westbrook              205  +    31 Laps
24. LMP2 #27 Oreca     Zlobin/Salo/Ladygin                 204  +    32 Laps
25. GTEA #88 Porsche   Ried/Bachler/Al Qubaisi             202  +    34 Laps
26. GTEA #90 Ferrari   Montecalvo/Roda/Ruberti             202  +  5m53.316s
27. GTEA #57 Ferrari   Krohn/Jonsson/Collins               202  +  6m54.611s
28. GTEA #61 Ferrari   Perez-Companc/Cioci/Venturi         202  +  7m27.446s
29. GTEA #77 Porsche   Dempsey/Foster/Long                 201  +    35 Laps
30. GTEA #70 Ferrari   Nakano/Ehret/Rich                   200  +    36 Laps
31. GTEA #66 Ferrari   Al Faisal/Neiman/Pumpelly           200  +  2m37.206s
32. GTEA #58 Ferrari   Barthez/Pons/Ayari                  200  +  3m21.663s
33. GTEA #76 Porsche   Narac/Armindo/Hallyday              199  +    37 Laps
34. GTEA #98 Aston     Dalla Lana/Lamy/Nygaard             198  +    38 Laps
35. GTEA #67 Porsche   Maris/Merlin/Helary                 197  +    39 Laps
36. GTEP #79 Porsche   MacNeil/Curtis/Bleekemolen          194  +    42 Laps
37. GTEA #53 Ferrari   Mowlem/Patterson/Hamilton           191  +    45 Laps
38. GTEA #72 Ferrari   Bertolini/Shaitar/Basov             182  +    54 Laps
39. GTEP #91 Porsche   Pilet/Bergmeister/Tandy             178  +    58 Laps
40. GTEA #62 Ferrari   Mallegol/Bachelier/Blank            176  +    60 Laps
41. GTEA #75 Porsche   Perrodo/Collard/Palttala            166  +    70 Laps
42. GTEP #52 Ferrari   Griffin/Parente/Leo                 139  +    97 Laps
43. LMP1 #7  Toyota    Wurz/Sarrazin/Nakajima              219  Retired
44. LMP2 #26 Morgan    Rusinov/Pla/Canal                   120  Retired
45. GTEA #60 Ferrari   Mann/Case/Giammaria                 115  Retired
46. LMP2 #47 Oreca     Howson/Bradley/Imperatori            87  Retired
47. LMP1 #13 Rebellion Kraihamer/Belicchi/Leimer            73  Retired
48. LMP2 #48 Oreca     Berthon/Gonzalez/Chandhok            73  Retired
49. LMP2 #41 Zytek     Munemman/Latif/Winslow               31  Retired
50. GTEP #71 Ferrari   Rigon/Kaffer/Beretta                 28  Retired
51. LMP1 #3  Audi      Albuquerque/Bonanomi/Jarvis          25  Retired
52. GTEA #81 Ferrari   Wyatt/Rugolo/Bird                    22  Retired
53. LMP2 #37 Oreca     Ladygin/Minassian/Mediani            9   Retired
54. CDNT #0  Nissan    Ordonez/Reip/Motoyama                5   Retired