Keselowski thinks he threw Pocono NASCAR Sprint Cup win away
| | |
| --- | --- |
| | Monday, June 9th 2014, 09:46 GMT |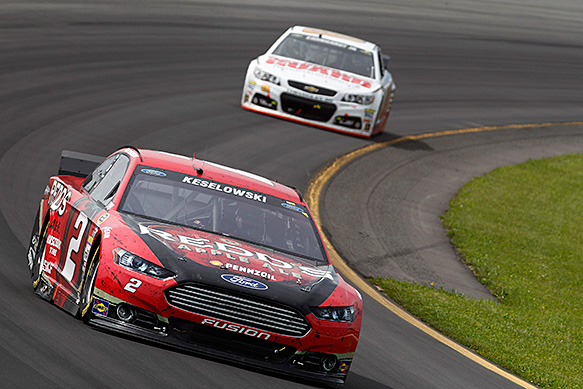 Brad Keselowski believes he threw the Pocono NASCAR Sprint Cup win away with a misjudged attempt to clear debris from his Penske Ford's grille behind Danica Patrick.
Keselowski looked to be in control of the race until a piece of litter on the front of his car caused engine temperatures to rise late on.
Concerned his engine might blow, Keselowski tried to use the turbulent air from behind Patrick's lapped Stewart-Haas Chevrolet to clear the debris, but ended up opening the door for Dale Earnhardt Jr to pass him and win the race.
"I feel like this one is kind of on me," said Keselowski.
"I was trying to do something to help my car out and I knew it was going to break and I was going to get passed so I was trying to make whatever move I could do to help clean it off.
"I'm not sure I did enough to make a difference. But I made enough of a difference to lose the lead in the process.
"I thought I had enough of a cushion [over Earnhardt], and when I got down in the corner and the car in front of me got sideways I realised I had made a mistake.
"But it was too little, too late.
"There was good execution today on probably all ends but mine."
Keselowski did not think Patrick did anything wrong in the incident, as he admitted she probably had no idea what he was trying to achieve.
"I could tell she was trying to let me go on the inside and I don't think she knew the situation I was in," he said.
"I was trying to follow her, and she just kept going higher and higher and higher until it sucked me in higher and higher.
"I just couldn't get out of the wake and lost my momentum."