Pocono NASCAR: Dale Earnhardt Jr grabs last-gasp win
| | |
| --- | --- |
| | Sunday, June 8th 2014, 20:49 GMT |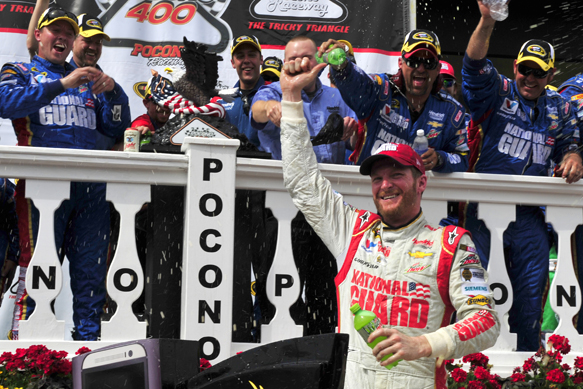 Dale Earnhardt Jr won his second NASCAR Sprint Cup race of the season in the 400-miler at Pocono, only grabbing the lead in the final five laps from erstwhile dominator Brad Keselowski.
Penske Ford racer Keselowski had built a clear lead from the final restart, but picked up a plastic bag on his front grille, which was affecting his engine temperature.
He tried to blow it off by running close to the lapped Danica Patrick, but lost momentum in doing so and Earnhardt zoomed past in his Hendrick-run Chevrolet, and clung to his first win since the season-opening Daytona 500.
Earnhardt also had trash on his grille, and admitted after the race that his temperature was running high too.
Keselowski tried to retaliate but Earnhardt held him off.
"He had me beat, but he did not think his motor was going to make it," said Earnhardt.
"I've lost some in some strange ways, so it's nice to win one like that. Tonight's going to be a long one!"
Kurt Busch finished third, his third top-five of the season, and both team owner Tony Stewart and team-mate Kevin Harvick also ran strongly, but they slumped to 13th and 14th after a pit speeding penalty and a puncture respectively.
Joe Gibbs's polesitter Denny Hamlin finished fourth after struggling in traffic all day, ahead of Kyle Larson, who led his first laps in the series in his Ganassi Chevy.
"A lot better finish than I thought I'd get," said Larson.
"Denny did a real good job to keep me behind."
Jimmie Johnson, who started 20th, got himself into the lead reckoning until hitting Macros Ambrose in the pits and suffering right-front damage.
Amazingly, he dragging himself back into the frontrunning pack but his two-tyre strategy at the final round of stops harmed his pace in the final stages and he finished sixth.
"We started deep in the field, but got to the front," he said.
"I didn't know the #9 [Ambrose] was trying to get in. We ground it out today."
Kasey Kahne suffered the biggest crash of the day, and declined to speak to media after being released from the infield care centre as he did not fell well enough.
Results - 160 laps:                                            
                                                               
Pos  Driver              Team/Car                  Time/Gap    
 1.  Dale Earnhardt Jr   Hendrick Chevrolet        2h52m07.000s
 2.  Brad Keselowski     Penske Ford               +0.439s     
 3.  Kurt Busch          Stewart-Haas Chevrolet    +4.145s            
 4.  Denny Hamlin        Joe Gibbs Toyota          +7.135s            
 5.  Kyle Larson         Ganassi Chevrolet         +7.450s            
 6.  Jimmie Johnson      Hendrick Chevrolet        +9.061s            
 7.  Ryan Newman         Childress Chevrolet       +9.728s            
 8.  Jeff Gordon         Hendrick Chevrolet        +10.365s            
 9.  Martin Truex Jr     Furniture Row Ford        +11.073s            
10.  Jamie McMurray      Ganassi Chevrolet         +11.423s            
11.  Clint Bowyer        Waltrip Toyota            +11.762s            
12.  Kyle Busch          Joe Gibbs Toyota          +12.107s            
13.  Tony Stewart        Stewart-Haas Chevrolet    +12.401s            
14.  Kevin Harvick       Stewart-Haas Chevrolet    +13.002s            
15.  Ricky Stenhouse Jr  Roush Fenway Ford         +15.755s            
16.  Greg Biffle         Roush Fenway Ford         +16.660s            
17.  Austin Dillon       Childress Chevrolet       +17.625s            
18.  David Ragan         Front Row Ford            +19.683s            
19.  Brian Vickers       Waltrip Toyota            +19.963s            
20.  Michael Annett      Baldwin Chevrolet         +20.749s            
21.  AJ Allmendinger     JTG Daugherty Chevrolett  +21.313s            
22.  Aric Almirola       Petty Ford                +21.657s            
23.  Casey Mears         Germain Chevrolet         +22.320s            
24.  Marcos Ambrose      Petty Ford                +22.525s            
25.  Matt Kenseth        Joe Gibbs Toyota          +23.771s            
26.  Paul Menard         Childress Chevrolet       +23.417s            
27.  Justin Allgaier     Hscott Chevrolet          +23.769s            
28.  David Gilliland     Front Row Ford            +24.766s            
29.  Travis Kvapil       FAS Lane Ford             +27.214s          
30.  Cole Whitt          BK Toyota                   -1 lap          
31.  Alex Bowman         BK Toyota                   -1 lap          
32.  Ryan Truex          BK Toyota                   -1 lap           
33.  Landon Cassill      Hillman Chevrolet          -2 laps          
34.  Reed Sorenson       Baldwin Chevrolet          -2 laps           
35.  Josh Wise           Parsons Chevrolet          -2 laps           
36.  Timmy Hill          Robinson Toyota            -2 laps           
37.  Danica Patrick      Stewart-Haas Chevrolet     -2 laps           
38.  JJ Yeley            Xxxtreme Chevrolet         -3 laps           
39.  Alex Kennedy        Circle Sport Chevrolet     -4 laps           
40.  Dave Blaney         Humphrey Ford             -10 laps            
                                                               
Retirements:                                                   
                                                               
     Joey Logano        Penske Ford                150 laps    
     Carl Edwards       Roush Fenway Ford          142 laps    
     Kasey Kahne        Hendrick Chevrolet         142 laps