Oulton Park BTCC: Colin Turkington sets practice pace
| | |
| --- | --- |
| By Kevin Turner | Saturday, June 7th 2014, 12:48 GMT |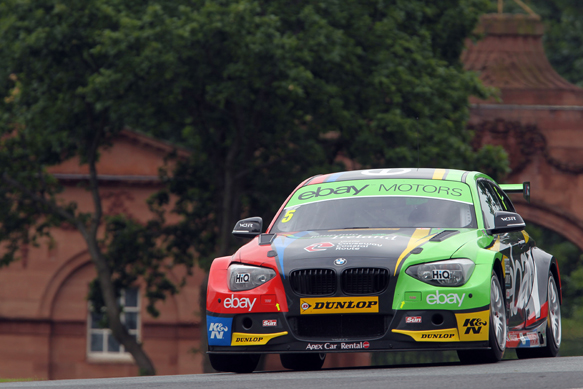 Colin Turkington topped free practice as the British Touring Car Championship returned to Oulton Park's International Circuit for the first time in nearly two decades.
Both sessions were wet and Turkington's WSR BMW set the pace in the first half of the morning running.
His time of 1m53.113s put him nearly a second clear of team-mate Rob Collard in second, with the Triple Eight MGs of Jason Plato and Marc Hynes next up.
The second session was closer, but an off by Motorbase driver Jack Clarke brought a premature end to practice just as the times were approaching Turkington's earlier benchmark.
Plato had just recorded a 1m53.345s before the incident, moving him to the top of FP2 and putting him second fastest overall.
Collard continued his good form by improving to 1m53.856s, good enough for third overall, while former Oulton Park polesitter Alain Menu was fourth in his BMR Volkswagen Passat.
Hynes failed to improve in the afternoon and ended up fifth overall, ahead of Rob Austin, Gordon Shedden and championship leader Andrew Jordan, all of whom set their best times in the morning.
Sam Tordoff was ninth, while Nick Foster made it three WSR BMWs in the top 10.
Former BTCC champion John Cleland qualified on pole for the Super Touring support race, but faces a race against time to source a failed suspension component on his Vauxhall Vectra.
Practice 1                                                        
                                                                       
Pos Driver               Car                   Time       Gap     Laps 
 1. Colin Turkington     WSR BMW               1m53.113s           14  
 2. Rob Collard          WSR BMW               1m54.025s  +0.912s  12  
 3. Jason Plato          MG                    1m54.394s  +1.281s  11  
 4. Marc Hynes           MG                    1m54.537s  +1.424s  12  
 5. Rob Austin           RAR Audi              1m54.592s  +1.479s  13  
 6. Gordon Shedden       Honda                 1m54.684s  +1.571s  12  
 7. Andrew Jordan        Eurotech Honda        1m54.872s  +1.759s  13  
 8. Sam Tordoff          MG                    1m55.068s  +1.955s  14  
 9. Alain Menu           BMR VW                1m55.071s  +1.958s  13  
10. Nick Foster          WSR BMW               1m55.125s  +2.012s  15  
11. Jack Goff            BMR Vauxhall          1m55.208s  +2.095s  13  
12. Mat Jackson          Motorbase Ford        1m55.380s  +2.267s  13  
13. Matt Neal            Honda                 1m55.574s  +2.461s  12  
14. Dave Newsham         AmD Ford              1m55.676s  +2.563s  11  
15. Fabrizio Giovanardi  Motorbase Ford        1m55.860s  +2.747s  12  
16. Tom Ingram           Speedworks Toyota     1m55.956s  +2.843s  12  
17. Jack Clarke          Motorbase Ford        1m56.203s  +3.090s  15  
18. Martin Depper        Eurotech Honda        1m56.208s  +3.095s  13  
19. Warren Scott         BMR Vauxhall          1m56.261s  +3.148s  11  
20. Aron Smith           BMR VW                1m56.401s  +3.288s  13  
21. Adam Morgan          Ciceley Mercedes      1m56.797s  +3.684s  12  
22. Aiden Moffat         Moffat Chevrolet      1m57.015s  +3.902s  12  
23. Chris  Stockton      BTC Chevrolet         1m57.611s  +4.498s  12  
24. Lea Wood             Houseman Toyota       1m57.887s  +4.774s   9  
25. Dan Welch            Welch Proton          1m58.170s  +5.057s   9  
26. James Cole           UA Toyota             1m58.269s  +5.156s   7  
27. Simon Belcher        Handy Toyota          1m58.416s  +5.303s  12  
28. Robb Holland         Rotek Audi            1m58.761s  +5.648s   3  
29. Glynn Geddie         UA Toyota             1m58.882s  +5.769s   4  
30. Hunter Abbott        RAR Audi              2m02.307s  +9.194s   1  
                                                                       
Practice 2                                                             
                                                                       
Pos Driver               Car                   Team       Gap     Laps 
 1. Jason Plato          MG                    1m53.345s           10  
 2. Colin Turkington     WSR BMW               1m53.804s  +0.459s   8  
 3. Rob Collard          WSR BMW               1m53.856s  +0.511s   9  
 4. Alain Menu           BMR VW                1m53.864s  +0.519s   8  
 5. Sam Tordoff          MG                    1m55.000s  +1.655s   9  
 6. Marc Hynes           MG                    1m55.076s  +1.731s  10  
 7. Nick Foster          WSR BMW               1m55.098s  +1.753s  10  
 8. Andrew Jordan        Eurotech Honda        1m55.126s  +1.781s  10  
 9. Aron Smith           BMR VW                1m55.260s  +1.915s  11  
10. Gordon Shedden       Honda                 1m55.327s  +1.982s  10  
11. Matt Neal            Honda                 1m55.560s  +2.215s  10  
12. Dave Newsham         AmD Ford              1m55.590s  +2.245s  10  
13. Rob Austin           RAR Audi              1m55.608s  +2.263s   9  
14. Mat Jackson          Motorbase Ford        1m55.631s  +2.286s   9  
15. Jack Clarke          Motorbase Ford        1m55.863s  +2.518s  11  
16. Warren Scott         BMR Vauxhall          1m56.098s  +2.753s  10  
17. Jack Goff            BMR Vauxhall          1m56.126s  +2.781s   8   
18. Tom Ingram           Speedworks Toyota     1m56.321s  +2.976s  10  
19. Fabrizio Giovanardi  Motorbase Ford        1m56.357s  +3.012s   9  
20. Chris Stockton       BTC Chevrolet         1m56.509s  +3.164s   7  
21. Martin Depper        Eurotech Honda        1m56.627s  +3.282s  11  
22. Glynn Geddie         UA Toyota             1m56.925s  +3.580s   5  
23. Adam Morgan          Ciceley Mercedes      1m56.997s  +3.652s   9  
24. James Cole           UA Toyota             1m57.074s  +3.729s  10  
25. Aiden Moffat         Moffat Chevrolet      1m57.214s  +3.869s  10  
26. Dan Welch            Welch Proton          1m57.255s  +3.910s  11  
27. Lea Wood             Houseman Toyota       1m57.709s  +4.364s  12  
28. Simon Belcher        Handy Toyota          1m58.363s  +5.018s  11  
29. Robb Holland         Rotek Audi            1m58.386s  +5.041s   9  
30. Hunter Abbott        RAR Audi              2m03.938s  +10.593s  4