WRC Italy: Mikko Hirvonen blaze cause may remain a mystery
| | |
| --- | --- |
| By David Evans | Saturday, June 7th 2014, 07:58 GMT |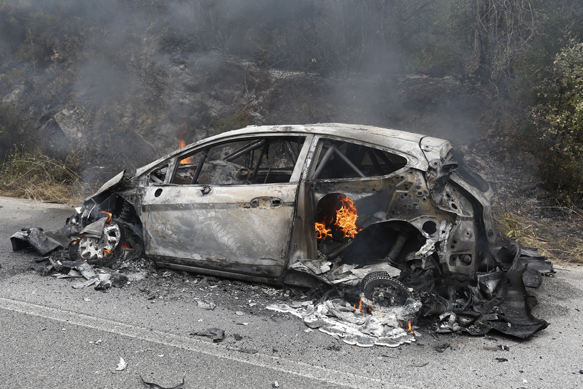 M-Sport team principal Malcolm Wilson says the cause of the Rally Italy fire that claimed Mikko Hirvonen's Ford Fiesta RS WRC may never be known.
The car was destroyed in the fire, which began on the road section between the third and fourth stages in Sardinia.
The Finn deployed his own extinguisher, and then used Sebastien Ogier and Mads Ostberg's extinguishers, but the fire took hold and burned the car out.
"The car's completely gone," Wilson told AUTOSPORT.
"Mikko is pretty confident the fire started in the right-rear corner, in the hub area.
"I don't think we'll ever know what started it.
"You'd think maybe a brake line or burst damper or something, but the car was absolutely fine - he had no problems with the car at all.
"It's strange for the fire to start there, that's the opposite side to the fuel tank, the breather, everything. I don't know.
"The main thing is that they're OK, they got out."
Hirvonen and his co-driver Jarmo Lehtinen were uninjured in the fire and have both now departed the island.
Hirvonen agreed with Wilson that the cause of the fire had almost certainly been destroyed in the blaze.
"I have no idea what happened and I don't think we are ever going to find out," he said.
"It was really strange. Straight after the stage [SS3] everything was OK and operating as it should.
"We stopped, took our HANS and helmet off, checked all the tyre pressures, had the usual look around the car and everything was fine.
"After we set off again, the car caught fire. We smelt the smoke and as I looked back the rear-right corner was covered in flames.
"We stopped straight away but they were already over the roof.
"I managed to empty three fire extinguishers but it didn't do anything to calm the blaze. There was nothing we could do to save the car."