Nico Rosberg: Lewis Hamilton relationship now 'more difficult'
| | |
| --- | --- |
| By Jonathan Noble | Thursday, June 5th 2014, 20:45 GMT |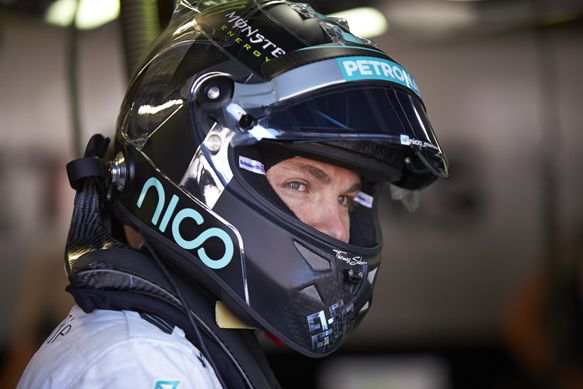 Nico Rosberg has admitted that handling his relationship with Lewis Hamilton has become more difficult since the Mercedes duo have been in a head-to-head Formula 1 title fight.
Despite suggesting that the ups and downs of recent races - which culminated in the Monaco Grand Prix qualifying controversy - are nothing out of the ordinary from their years racing alongside each other, he concedes that there is now a bigger edge.
"We've always had periods where it was more difficult," Rosberg said ahead of the Canadian GP. "But we have that base respect which goes back 15 years and that is the important one.
"As a result we always discuss things and move on, and that is how it has been this time too.
"It [the relationship] has not changed in any way - it is still the same as it used to be, so it's not different. But of course it is more difficult, that is clear.
"We are fighting every single race weekend. It is me against him and there is nobody else, so it definitely makes it more difficult. And there is more at stake."
Hamilton has suggested that they have moved on from their Monaco GP spat, after he phoned Rosberg for a chat last week.
But although the pair's relationship is getting tested, Rosberg has said it is no surprise such flashpoints like Monaco, and the Spanish GP, have come already.
"Am I surprised that we have certain difficulties early on when we are both fighting for every race win? No. It has always been there, back in go-karting.
"We had difficulties and even then we were fighting every time for the race wins, so I am not surprised."
MEDIA WAR OF NO INTEREST
While much has been made of various comments from Hamilton about his team-mate in recent weeks, Rosberg himself has kept his thoughts more to himself.
When asked why he had resisted the temptation to speak out more, the German made it clear that his focus was on winning on track - not the media battle.
"I want to win races, so everything I do is focused on that - winning races," he said.
"At the same time I understand that you are writing for the fans who are there, and that is the most important thing. And that is why we are racing, so it is a fine line.
"I am here to try to give you some cool stuff, but I want to try to avoid giving things that heat the moment any more unnecessarily.
"I don't want to compare myself to him, I can say in general that I tend to err towards the rational side, but it is sometimes very difficult in this sport and in the heat of the moment of course.
"But I try for myself to be a little bit towards the rational side - not comparing to anybody else."