Toro Rosso F1 team tweaks exhausts after Monaco GP problems
| | |
| --- | --- |
| By Edd Straw | Thursday, June 5th 2014, 19:01 GMT |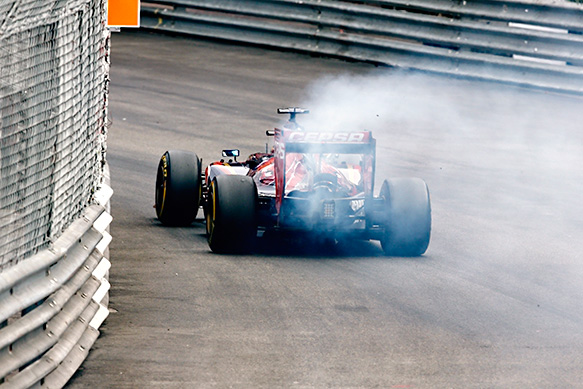 Scuderia Toro Rosso has made modifications to its exhaust to ensure there is no repeat of the problem that forced both of its Formula 1 cars out of the Monaco Grand Prix.
Both Jean-Eric Vergne and Daniil Kvyat were on course to score points when they were forced to retire with exhaust issues.
Toro Rosso has manufactured new exhaust systems for both of its cars after suffering cracks believed to be caused by overheating.
"It has definitely been understood and the team knows the direction to work with these things," said Kvyat when asked by AUTOSPORT about the problem.
"I've been told it's going to be OK, so it should be alright. The guys know what to do."
Vergne is also confident in the changes, but is unsure of where Toro Rosso will be in the competitive order after the latest phase of its upgrade package is introduced.
"I'm confident they have solved the problems," said Vergne of the exhaust.
"I don't have any good or bad expectations [for the weekend] and I have no idea what the upgrade will bring us.
"I've got to be patient and see how it goes tomorrow and in qualifying on Saturday, so I prefer to keep calm and have no expectations."
vERGNE NOT WORRIED BY PITSTOP BLUNDER
Vergne is also confident that there will be no repeat of the unsafe release from a pitstop which led to him being hit with a penalty at Monaco
The Frenchman was running seventh when he pitted under the safety car, but he was released from his pit box into the path of Kevin Magnussen, who had held sixth place before the stops.
The Dane had to take evasive action, avoiding a collision, but Vergne was hit with a drive-through penalty that relegated him to 13th place, blaming the mistake on a one-off human error.
"It was a human mistake," said Vergne.
"It can happen once and the people that make a mistake will never do it again.
"That's racing and that's human as well. What can I say? If someone does the same mistake two or three times, things would be a bit difficult.
"It's unfortunate that it happened in Monaco, but that's how it is. I cannot change the past and have to take it."