Ferrari F1 duo tell team not to lose focus on long-term recovery
| | |
| --- | --- |
| By Jonathan Noble | Thursday, June 5th 2014, 17:43 GMT |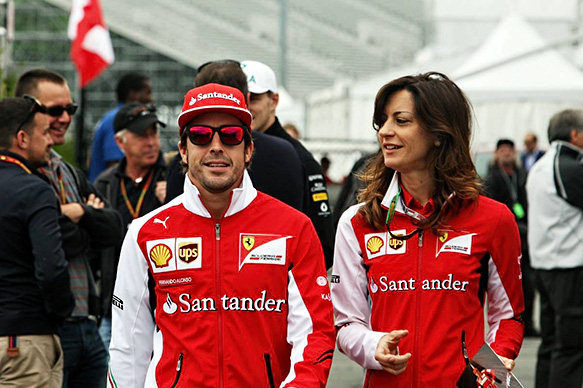 Fernando Alonso and Kimi Raikkonen think it is more important that Ferrari gets its long-term recovery plan in place than worrying about immediate results on track.
While the team is hoping for a step forward in pace at the Canadian Grand Prix thanks to some updates, its drivers say that what happens over the next 12 months is of more value.
Speaking in Montreal on Thursday, Alonso said: "Whatever these updates provide us with, we just need to keep working on both sides - on this year, because we need to be fighting for important things like the second place in the constructors' championship, and for next year.
"We can't do anything this year that will compromise next year's car.
"We need to keep developing in 2014 because many things will carry on for next year's car.
"But if there is something fundamental that requires a lot of time in the 2015 project then obviously we need to make that time. I'm not worried about this, to be honest.
"Since the arrival of Marco Mattiacci, I think things are moving in the right direction, he has a good vision and a very clever approach, either for this year or for next year, we're just going to get stronger and stronger."
Raikkonen has had a more difficult time than Alonso this season as he has struggled to get comfortable with the handling of the F14 T.
But with the team having only had one podium finish this season, thanks to Alonso's efforts in China, Raikkonen knows that Ferrari's problems go beyond just what he is experiencing.
"We have issues and we are not as fast as we want to be, and we just have to fix those," he said.
"Obviously if we would be happy we should be winning races, and we are not. So there are things that we have to fix.
"But there are many small things and hopefully once we fix those we will be where we want to be but it is a long process, it is not going to happen in three weeks.
"We are never happy - even if you win races or championships you are still never happy. There are always things that you can fix."
When asked if it was realistic to believe Ferrari could turn around its fortunate and fight Mercedes for the title, Raikkonen said: "It is very hard for anyone to challenge them unfortunately. I might be wrong about that, but that is how it goes.
"In the past years you can see how it can change, but when one team is winning it is hard to beat.
"But our aim is to fix the things that we think is the issue and get better all the time.
"We want to do the best that we can at every race, and hopefully win races or be on the podium - and just get stronger and sort out the things for the future and the upcoming races."