BTCC racer Simon Belcher's Thruxton crash rebuild completed on time
| | |
| --- | --- |
| By Kevin Turner | Wednesday, June 4th 2014, 14:38 GMT |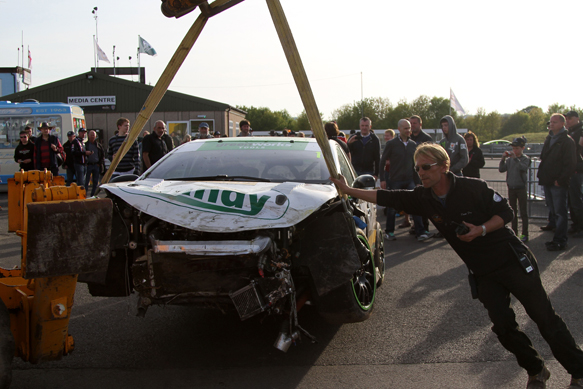 British Touring Car Championship racer Simon Belcher will contest the Oulton Park round this weekend after his Handy Motorsport squad repaired his Toyota Avensis following his massive Thruxton accident.
Belcher was one of three drivers to crash at Thruxton's high-speed Church right-hander at last month's round.
The damage put Belcher's Oulton participation in doubt, but the last parts arrived on Monday and the team has now completed the rebuild.
"We're going to put the final set-up on in the morning [on Thursday]," Belcher told AUTOSPORT. "We'll then go to Donington Park in the afternoon to make sure the car is 100 per cent, then head up to Oulton.
"It's all done and we'll be there."

Drivers call for changes after Thruxton crashes
Belcher, who confirmed the Thruxton accident was caused by a failure in the front-right suspension, said Handy's rebuild might not have been completed in time without the help of Speedworks Motorsport.
"Had Speedworks not had a spare front subframe, we might not have been out," he added. "The engine had to go back to Swindon [Engines] and the gearbox had to go away as well, it's been a massive job.
"We're just glad we've had one of the biggest gaps in the calendar to work in."
The contribution of BTCC fans, who bought specially produced T-shirts and a number of salvaged parts from the Avensis, also helped Belcher fund the rebuild.
"The fans have helped us out so much," he said, "I never quite realised just how incredible they are.
"I have to say a massive thank you to everyone who has got involved to make sure we're back for Oulton. We've obviously got a budget for damage, just not on the scale of the damage caused at Thruxton.
"We were making good, solid progress [before the crash]. I want to score points at Oulton."