Spa FR3.5: Lotus team miscalculation cost Richie Stanaway podium
| | |
| --- | --- |
| By Glenn Freeman | Monday, June 2nd 2014, 13:47 GMT |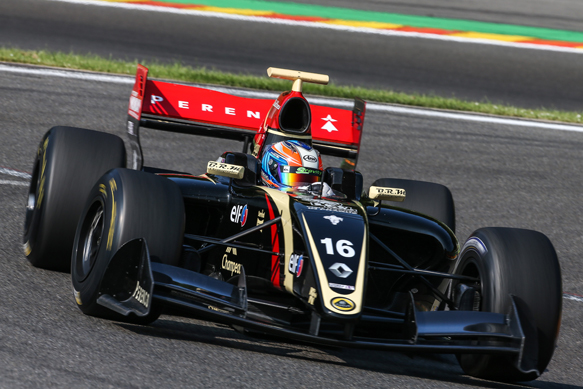 Richie Stanaway's lost podium finish on his Formula Renault 3.5 return at Spa last weekend was down to an error by his Lotus team.
The GP3 and Aston Martin racer, who returned to the series at the same circuit where he suffered career-threatening back injuries two years earlier, finished third on the road in race two but was penalised for making his mandatory pitstop too late.
"The engineers tick the laps down on the lap chart, and they just missed a line and pitted me a lap too late," Stanaway told AUTOSPORT.
"We wanted to pit at the end of the window, but they simply miscalculated the laps.
"I didn't know [about the penalty] until the end when they told me on the radio. It's a little bit disappointing, but it's only a third."
Stanaway, who is set to remain with the team for the next round at Moscow Raceway while Matthieu Vaxiviere continues to recover, said he was not angry with his team for the error.
"You can't be too hard on them," he added. "We all make mistakes, and it's usually drivers more than engineers.
"As a driver if you make a mistake there's nothing worse than having bad morale in the team, so when the team make a mistake you can't get angry.
"I'm not going to hold any grudges, and it was good to be up there pace-wise."
The 22-year-old said he was grateful for the opportunity from his old team.
"I was really excited about my 2012 season, but then I had the accident and it all got taken away," he said.
"It's pretty cool to have another chance. Sitting on the grid it was pretty weird to be in the same colours, for the same team.
"It does feel different though. Last time I was a Lotus junior, this time I've just been called up because someone's injured."