Dover NASCAR: Jimmie Johnson shrugs off late yellow to win again
| | |
| --- | --- |
| | Sunday, June 1st 2014, 21:32 GMT |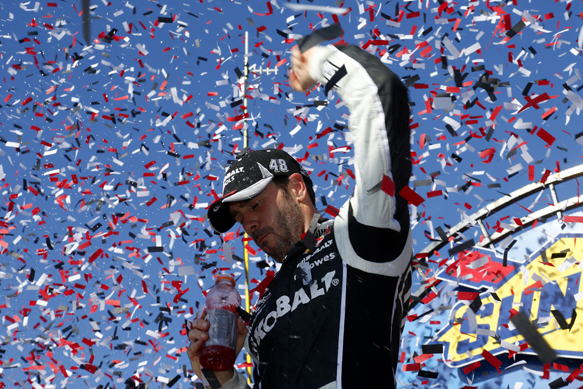 Jimmie Johnson scored his second NASCAR Sprint Cup victory in as many weeks at Dover, holding off Brad Keselowski in a late-race restart.
Hendrick Chevrolet star Johnson dominated the second half of the race, having wrested the lead from Matt Kenseth's Joe Gibbs-run Toyota on lap 180.
Clint Bowyer attempted a bold two-tyre strategy at the final round of pitstops to briefly grab the lead, but Johnson dispatched him within seconds of the restart and was never again headed.
A final yellow flag, due to Casey Mears' tyre falling to pieces inside the last 10 laps, meant a four-lap shoot-out to the finish, but Johnson kept his cool once more.
Poleman Keselowski finished second in his Penske Ford, having closed the gap to Johnson in the penultimate stint, but he was unable to do anything about the six-time champion in the final reckoning.
Kenseth finished third, escaping a hairy moment when Bowyer got into the back of him at the final restart.
Denny Hamlin was fifth, despite an early pitlane speeding penalty.
The race was red flagged twice, once to clean debris from a crash involving Roush Fenway duo Greg Biffle and Ricky Stenhouse Jr, which was started by AJ Allmendinger, and a second time when the track came apart at Turn 2.
Ryan Newman tore up part of the concrete race surface into the path of Jamie McMurray, whose car hit the wall after he'd slammed into the debris.
The track required repairing, which meant a lengthy delay, but no further issues were encountered after the restart.
                                                        
Results - 400 laps:                                          
                                                             
Pos  Driver             Team/Car                     Time/Gap
 1.  Jimmie Johnson     Hendrick Chevrolet       3h23m52.000s            
 2.  Brad Keselowski    Penske Ford                   +0.885s
 3.  Matt Kenseth       Joe Gibbs Toyota              +2.008s
 4.  Clint Bowyer       Waltrip Toyota                +2.326s
 5.  Denny Hamlin       Joe Gibbs Toyota              +2.745s
 6.  Martin Truex Jr    Furniture Row Ford            +3.445s
 7.  Tony Stewart       Stewart-Haas Chevrolet        +3.738s
 8.  Joey Logano        Penske Ford                   +4.176s
 9.  Dale Earnhardt Jr  Hendrick Chevrolet            +4.284s
10.  Paul Menard        Childress Chevrolet           +4.644s
11.  Kyle Larson        Ganassi Chevrolet             +4.987s
12.  Aric Almirola      Petty Ford                    +5.114s
13.  Jamie McMurray     Ganassi Chevrolet             +5.359s
14.  Carl Edwards       Roush Fenway Ford             +6.036s
15.  Jeff Gordon        Hendrick Chevrolet            +6.747s
16.  Marcos Ambrose     Petty Ford                    +6.839s
17.  Kevin Harvick      Stewart-Haas Chevrolet         -1 lap
18.  Kurt Busch         Stewart-Haas Chevrolet         -1 lap
19.  Kasey Kahne        Hendrick Chevrolet             -1 lap
20.  Austin Dillon      Childress Chevrolet           -2 laps
21.  AJ Allmendinger    JTG Daugherty Chevrolet       -3 laps
22.  Brett Moffitt      Robinson Toyota               -4 laps
23.  Danica Patrick     Stewart-Haas Chevrolet        -4 laps
24.  Reed Sorenson      Baldwin Chevrolet             -4 laps
25.  Casey Mears        Germain Chevrolet             -5 laps
26.  Justin Allgaier    Hscott Chevrolet              -5 laps
27.  Cole Whitt         BK Toyota                     -6 laps
28.  Josh Wise          Parsons Chevrolet            -10 laps
29.  David Gilliland    Front Row Ford               -12 laps
30.  Blane Koch         FAS Lane Ford                -12 laps
31.  Ryan Newman        Childress Chevrolet          -13 laps
32.  Ryan Truex         BK Toyota                    -13 laps
33.  Dave Blaney        Humphrey Ford                -17 laps
34.  Landon Cassill     Hillman Chevrolet            -18 laps
35.  Michael Annett     Baldwin Chevrolet            -22 laps
36.  David Ragan        Front Row Ford               -50 laps
37.  David Stremme      Circle Sport Chevrolet      -103 laps*
38.  Greg Biffle        Roush Fenway Ford           -108 laps
                                                             
* Not running at finish                                       
                                                             
Retirements:                                                 
                                                             
     JJ Yeley           Xxxtreme Chevrolet           232 laps
     Alex Bowman        BK Toyota                    208 laps
     Ricky Stenhouse Jr Roush Fenway Ford            131 laps
     Kyle Busch         Joe Gibbs Toyota             125 laps
     Brian Vickers      Waltrip Toyota                73 laps